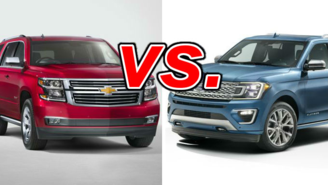 Large body-on-frame SUVs aren't overly popular today as smaller, more agile crossovers have taken some of their thunder. That said, when you need to maximize space and towing, these massive people-movers are still the way to go. And two stalwarts in the full-size SUV class are the Chevrolet Tahoe and the Ford Expedition.
The Expedition just went through a complete redesign in 2018 that ushers in a new look and a new turbocharged V6 engine. This makes the Tahoe, which had its own redesign in 2015, feel ancient in comparison. Can the Tahoe and its V8 outgun the modern V6-powered Expedition? Keep reading to find out.
See a side-by-side comparison of the Tahoe & the Expedition »
What the Tahoe Gets Right
The Tahoe kicks things off with a significantly lower base price of $48,795 (destination fees included), which is $4,290 less than the base Expedition. Even its mid-range LT trim is just a few hundred dollars more than the base Expedition.
For the traditionalist, the Tahoe's range of V8 engines will feel more controllable than the stabbing acceleration from the 3.5-liter turbocharged V6 in the Expedition. Also, the optional 6.2-liter V8, which comes with the RST package, boasts 420 horsepower, besting the Expedition by 20 hp.
What the Expedition Gets Right
The Expedition rolls in with a newer look that's fresher than the Tahoe. Its cabin is also more refined, providing more comfort in the base trim and tons of luxury in the range-topping Platinum trim. There's never an argument about where to sit in the Expedition, as the second row of seats has up to 41.5 inches of leg room and the third row has an adult-friendly 40.9 inches.
Under its hood, the Expedition's turbocharged 3.5-liter V6 out muscles the Tahoe's base V8 with its 400 hp and easy-to-access 480 lb-ft of torque. This pairs with a quick steering system and a comfortable chassis to make the Expedition drive smaller than it is.
Towing and hauling is also easier in the Expedition with its up to 104.6 cubic feet of cargo room and up to 9,300-pound towing capacity.
Want V8 Muscle? Go Tahoe
The resurgence of the turbocharged engine isn't for everyone, especially in a large SUV like the Expedition. Those looking for that classic V8 feel will be more at home in the Tahoe.
Verdict: Ford Expedition
The Ford Expedition and its new powertrain is one of the best in the class. It's not only powerful and quick, but also comfortable in all trims, especially the borderline-luxury Platinum model.
Take a closer look at the Chevrolet Tahoe »