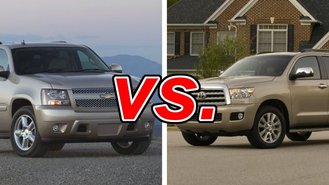 Many large SUVs have fallen out of favor in recent years. However, industry leaders like the Tahoe, Escalade, Expedition and Suburban have remained popular -- in no small part because of their amenities, ability to haul eight or nine people, and truck-like towing capacity.
See a side-by-side comparison of the Tahoe & Sequoia »
The Toyota Sequoia was first introduced in 2001 and has made a lot of headway against some of its more established American competitors. So how does the Sequoia stack up against one of the standard bearers of this class: the Chevrolet Tahoe?
What the Chevrolet Tahoe Gets Right
Fully redesigned for 2015, the Tahoe is a full-size truck-based SUV. Despite being shorter than the Suburban, the Tahoe retains the ability to seat nine. Multiple configurations with optional captain's chairs can reduce seating to eight or seven, depending on a buyer's needs.
The Tahoe's 5.3-liter can tow up to 8,500 pounds and yet somehow achieves 23 mpg on the highway. With available four-wheel drive it's a versatile vehicle. Interior entertainment options are top-of-the-line. Storage space is somewhat smaller than the competition, but the reduced size of the Tahoe means it's more maneuverable in tight spaces -- a feature many drivers will enjoy.
What the Toyota Sequoia Gets Right
The Sequoia offers an immense interior with seating for seven or eight passengers. There's no lack of space for sprawling out, and tri-zone climate control means everyone stays comfortable.
Second-row seats recline, and slide rearward to create more legroom. Folding flat both rows of rear seats will produce 121 cubic feet of cargo space.
The engine provides a decent tow rating -- 7,100 pounds on four-wheel drive models. Yet, despite the V8's heartiness, it's surprisingly smooth and quiet. And while the Sequoia is slightly unwieldy in tight spaces, it's nimble enough for a vehicle of its size.
How do the Tahoe and Sequoia Stack Up?
The Tahoe has the instant advantage of being the newer design. It offers a comparable set of features and options, seats nine, and is more agile. However, we like the additional interior space and available options offered by the Sequoia.
Neither SUV is a model of efficiency, but the Tahoe ekes out more miles per gallon that just about any other vehicle in its class.
Our Verdict: Chevrolet Tahoe
With its ability to seat nine, superior fuel efficiency, better tow rating and smaller footprint, the Chevrolet Tahoe takes this prize.
Take a closer look at the Chevrolet Tahoe »