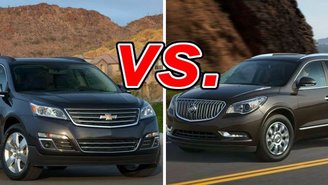 GM's largest crossovers, the Chevrolet Traverse and Buick Enclave can handle up to eight passengers and almost as much cargo as some minivans. The Traverse takes a middle-of-the-road approach, appealing to families that need versatility at a reasonable price. The Enclave occupies the space just above it, where buyers are willing to pay more for a premium feel and amenities.
Which of these popular crossovers is more compelling in our view?
See a side-by-side comparison of the Traverse & Enclave »
What the Traverse Gets Right
The front-drive Traverse carries a 281-horsepower, 3.6-liter V6 and a six-speed automatic transmission. When equipped with the optional all-wheel drive system, the Traverse can tow up to 5,200 pounds. That's impressive capability for a passenger-oriented crossover.
Third rows are typically reserved for children, but not in the Traverse. Two adults can get comfortable in the back with enough space leftover for one child. With all seats taken, cargo space is limited to 24.4 feet. That grows to a class-leading 116.3 cubic feet with the rows folded.
What Enclave Gets Right
The Enclave offers the same mechanical setup and interior volume as the Traverse, along with a more luxurious cabin, glitzier exterior trim, and standard features that cost extra on the Traverse, including a power liftgate, remote start, and power front seats.
The Enclave is luxury-car quiet inside and offers a plush ride that's just right for long-distance highway travel. We're impressed by how well the suspension isolates passengers from road imperfections. The Enclave doesn't necessarily need a smooth surface to keep everyone comfortable.
Is the Traverse a Bargain or Just Cheaper?
The Traverse nearly as capable as the Enclave and can be equipped with many of the same features. But what the Traverse can't match is the Enclave's rolling smoothness and overall interior refinement. That might not matter to cost-conscious buyers, but the difference is apparent enough to justify the Enclave's near-luxury price.
Out Verdict: Buick Enclave
While the Traverse is fine family transportation, the Enclave feels more like a reward.
Take a closer look at the Chevrolet Traverse »