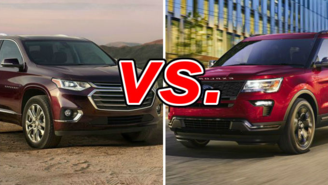 The three-row crossover must do many things very well, but not necessarily one great thing. The Chevrolet Traverse and Ford Explorer fit this bill nicely with their large cargo areas, roomy seating, and powerful engines. Deciding between the two can prove difficult, so we took a deep dive into both to find out which is the better buy for you. Keep reading to learn more.
See a side-by-side comparison of the Traverse & Explorer »
What the Traverse Gets Right
Having gone through a complete redesign in 2018, the Chevy Traverse is more modern-looking than the Explorer. It boasts a sharp nose, tight body lines, and all the styling today's buyer looks for in a three-row crossover. Besides being more stylish, the 2019 Traverse's $31,125 base MSRP (destination fees included) is $2,335 cheaper than the base 2019 Explorer.
The Traverse is also roomy and comfy for just about everyone. Its eight-person seating offers great padding up front for those all-day drives, and the second-row seats deliver up to 38.4 inches of leg room, which will fit even your tallest family member comfortably. The third row offers up to 33.5 inches of leg room, which beats the Explorer by 1.5 inches and is far easier to access.
Cargo also gets to its destination in great comfort. Behind its third row, the Traverse has 23 cubic feet of space. With the third row lowered, this expands to 57.8 cubes. Lower both rear rows to expose a 98.2-cubic-foot cargo area that's ready for your next IKEA trip. The Explorer tops out at just 80.7 cubic feet.
What the Explorer Gets Right
The Explorer, while dated, sports a more traditional SUV appearance with its upright stance. Sure, it's older looking, but some buyers may seek this more rugged appearance.
The Explorer has a trio of motivational units, while the Traverse has only two engines to pick from. The two stars of the Explorer's lineup start with a 2.3-liter turbocharged four-cylinder that cranks out 280 horsepower and 310 pound-feet of torque, which beats the Traverse's four-pot by 23 ponies. The other all-star is the 3.5-liter turbocharged V6 with 365 hp and 350 lb-ft of torque, which crushes the Traverse's V6 by 55 hp.
Maximize Performance in the Explorer
With its two mighty turbocharged engine options, the Ford Explorer delivers solid straight-line performance any SUV buyer would love. The Traverse, while no pig, cannot hang in this department.
Verdict: Chevrolet Traverse
The aging Ford Explorer cannot hold up to the new and improved Chevy Traverse. Thanks to its sharper looks, ultra-comfy cabin, and massive cargo area, the Traverse is simply the better crossover.
Take a closer look at the Chevrolet Traverse »