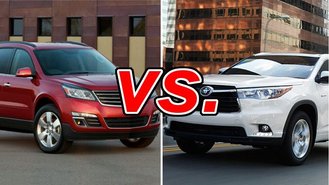 If you're not the van type and don't want the expense of a jumbo SUV, your best bet for interior space is a large crossover like the Chevrolet Traverse or Toyota Highlander. Along with abundant elbow room, you get surprising capability, all-weather traction, and decent fuel efficiency.
See a side-by-side comparison of the Traverse & Highlander »
Which of these roomy models does a better job of delivering what families need most in a vehicle?
Where the Traverse Succeeds
Like other GM crossovers, the Traverse simply knocks it out of the park when it comes to interior space. The Chevy can accommodate eight passengers with 25 cubic feet to spare for their luggage. With five bodies aboard, there's 70 cubic feet of cargo space, and a whopping 116 cubic feet with both rows folded.
The Traverse is powered by 3.6-liter V6 that produces up to 288 horsepower and returns 24 mpg on the highway. When equipped with all-wheel drive, the Chevy tows a substantial 5,200 pounds.
Where the Highlander Succeeds
Despite a softening redesign, the Highlander neatly avoids the mom-mobile styling found on many crossovers of this ample size. Although it looks related to a truck, the Toyota behaves like a passenger car. You get precise handling, a relaxing ride, and excellent maneuverability for a seven-passenger vehicle. Maximum cargo space comes in at 83.7 cubic feet, above average for this class.
The Highlander starts out in front-drive form with a 2.7-liter four cylinder good for 185 horsepower. Most buyers will be more comfortable with the available 270-horsepower 3.5-liter V6. Even with all-wheel drive, the V6 model accelerates from zero to 60 mph in a quick 7.3 seconds -- and can tow up to 5,000 pounds.
The Final Score
The Highlander is a stylish example of an all-around appealing crossover that performs as promised. The Traverse is just as competent and undeniably huge on the inside.
Our Verdict: Chevrolet Traverse
While doing everything else right, the Traverse offers amazing room for people and things.
Take a closer look at the Chevrolet Traverse »