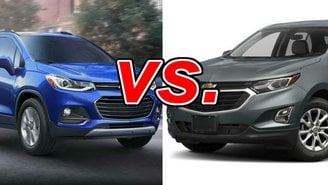 As manufacturers continue growing their crossover lineups to meet customer demand, cannibalism on showroom floors is becoming more common. A great example of this is a shopper comparing the subcompact and more affordable Chevy Trax to its larger sibling, the Chevy Equinox.
The Trax offers rock-bottom pricing, great fuel economy, and generous features, but the Equinox does much of the same, but better and at a higher price. Which of these Chevy crossover is best for you? Keep reading to find out.
See a side-by-side comparison of the Trax & Equinox »
What the Trax Gets Right
As Chevy's entry-level crossover, the Trax gets a huge head start in pricing: Its $21,995 base price (destination fees included) makes it $2,580 cheaper than the base Equinox. In fact, buyers could add all-wheel drive or move up to the midrange LT trim and still pay less than the base Equinox's starting price. And at that low base price, the Trax is well-equipped. It features a rearview camera, keyless entry, a seven-inch touchscreen 4G LTE, Wi-Fi and more in its cheapest trim.
Buyers in busy cities will find the Trax's smaller footprint makes it easier to zip in and out of traffic and park in tight spaces. And, despite this small footprint, the Trax still fits four adults comfortably and performed well in IIHS testing.
What the Equinox Gets Right
The Chevy Equinox's new looks are far more pleasing to take in than the Trax's rental-fleet styling, and this is especially true inside. Despite the Trax offering decent passenger room for its size, the Equinox's larger footprint gives it a more spacious cabin that swallows occupants and cargo more effectively. It offers 39.7 inches of second-row leg room and up to 63.5 cubic feet of cargo room, which is four inches more leg room and 6.5 more cubes of cargo room than the Trax.
The Equinox also offers buyers a wider range of powertrain options. The base 1.5-liter turbocharged engine delivers 170 horsepower and a more accessible 203 pound-feet of torque, plus it's good for up to 28 miles per gallon combined, which matches the base Trax. Want more potency? Go with the 252-hp 2.0-liter turbocharged engine. Finally, the thrifty 1.6-liter diesel option injects a healthy 240 lb-ft of torque and pulls in up to 32 mpg combined.
Finally, in IIHS testing, the Equinox missed being a Top Safety Pick because its headlights only delivered a "Marginal" performance. In every other category, the IIHS gave the Equinox top marks.
On a Budget, Go Trax
Pitting the Chevy Trax against its big bro is a bit unfair, but it holds its own surprisingly well. Ultimately, the Trax falls just short of the Equinox, but it is still a great option for budget shoppers.
Verdict: Chevrolet Equinox
Plain and simple, the Equinox was just too much for the Trax to handle. It has a more spacious cabin, more engine options, better safety ratings, and it's a bit more stylish.
Take a closer look at the Chevrolet Trax »