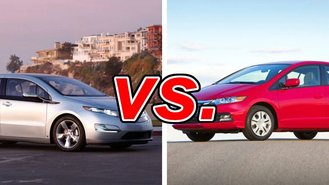 As the first hybrid to hit the American market, the Honda Insight debuted to much fanfare when the first generation was introduced in 1999. In its initial year, the Chevrolet Volt also received much acclaim -- even nabbing Motor Trend's highly-prized "Car of the Year" award.
See a side-by-side comparison of the Volt & Insight >>
Now that both models have been around for a while, how do they stack up against each other?
What the Chevrolet Volt gets right
In an effort to counteract distance limits of previous electric vehicles, the Chevrolet Volt is a plug-in hybrid vehicle. This technology allows battery charging from an external source -- but should the driver's destination be further than the electric motor allows, the gas-powered hybrid system kicks in to ensure everyone gets home.
With this plug-in versatility, Chevrolet pioneered an entirely new automotive market segment. The Volt also introduced sportiness to the hybrid class -- with an aggressive wind-tunnel inspired look, the Volt made going green even more stylish.
What the Honda Insight gets right
As the least expensive hybrid on the market today, the Honda Insight appeals to the eco-friendly driver who is also cost conscious. This second-generation Insight is inexpensive to purchase, cheap to own thanks to a 40 plus MPGe rating, and comes with Honda's reputation for reliability. Three trim levels offer a good degree of customization.
Looking good is the name of the game
When Honda reintroduced the current Insight in 2009, many automotive critics and enthusiasts were put off by styling that closely resembled the Toyota Prius, which outperformed and outsold the Insight.
The Volt, by contrast, began making waves when introduced as a concept -- and with dramatic production styling that looks much like the original show car.
Our Verdict: Chevrolet Volt
The plug-in hybrid technology championed by the Volt has opened up a new market segment. This ambitiously styled sedan is a game changer and an automotive first. It offers classic Chevy looks and has other manufacturers scrambling to catch up.
Take a closer look at the Chevrolet Volt >>