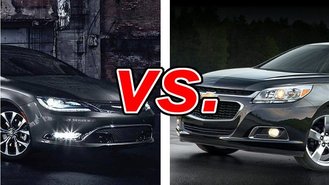 Midsize sedans have their work cut out for them. Buyers demand generous room and top-notch features along with pleasant performance, but don't want to spend too much at the dealer or the pump.
The Chrysler 200 and Chevrolet Malibu meet those requirements while adding their individual touches to the mix. Which model is the better representative of family-car values?
See a side-by-side comparison of the 200 & Malibu »
Points for the 200
The 200 welcomes passengers with a classy chrome-trimmed interior that ranks at the high end of its class. Like its exterior, the 200's cabin is focused on style, and it achieves a certain premium feel even in base trim. Its short rear deck and smallish footprint make navigating urban traffic less of a chore than expected in a midsize sedan.
The standard 2.4-liter four-cylinder engine delivers 173 horsepower and about 24 mpg in combined city and highway driving. With 283 horsepower, the available 3.6-liter V6 provides strong performance with only a slight loss in fuel economy. It's certainly one of the better engines in this class.
See more sedan comparisons here »
Points for the Malibu
Chevy's long-running midsize received a thorough revamp in 2013, with design emphasis on quality and efficiency. Like the 200, it's on the smaller end of its class, although shoulder and hip room have actually increased. The Malibu makes a strong showing when it comes to passenger environment. New tech features, soft-touch materials, and increased sound deadening provide a level of refinement unheard of in previous editions.
The standard 2.5-liter four-cylinder engine puts out 197 horsepower; an impressive number for a non-turbo. Eco models come with a 2.4-liter four-cylinder and small electric motor to assist with acceleration. This mild-hybrid setup takes the Eco from zero to 60 mph in 8.2 seconds and achieves 29 mpg in combined city and highway driving -- an excellent balance of performance and economy. Upper trim levels can get a 2-liter turbo with 259 horsepower for performance comparable to a V6.
Tallying the Score
The 200 impresses us with its upscale style and effortless acceleration with the V6. The Malibu's improvements in efficiency are commendable, but it's the significant boost in interior quality that has transformed it into a strong competitor.
Our Verdict: Chevrolet Malibu
Sophisticated and efficient, the redesigned Malibu has what it takes to be a top-tier family car.
Take a closer look at the Chrysler 200 »