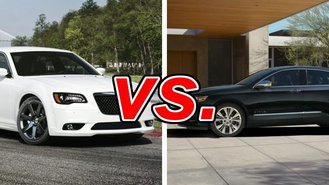 Chrysler's flagship sedan returned to relevance with a 2011 redesign that introduced new styling and a new V6 engine mated to an eight-speed automatic transmission.
See a side-by-side comparison of the 300 & Impala >>
But can the Chrysler 300 stand up to rivals like the newly-redesigned Chevrolet Impala? Or will it be outclassed?
What The 300 Gets Right
With refined exterior styling that mixes sporty cues with elegant lines, the 300 won't be mistaken for anything else -- especially from the front. Rear styling is a bit bland, but its tasteful use of chrome in the tail lights is a nice touch.
The interior of the 300 also boasts tasteful styling. Its use of soft-touch plastics is a welcome departure from the hard plastic that adorned the previous-generation 300 -- wood trim in 300C models can look cheap from certain angles, though. The base engine is a 3.6-liter Pentastar V6 that's good for a healthy 300 horsepower.
Why Choose The Impala Over The 300?

The new Impala shares almost nothing with the model it replaces. Exterior styling has been radically reworked with aggressive Camaro-like lines. The interior does an excellent job of providing occupants with comfort and amenities, though the oddly-shaped steering wheel is a love-it-or-hate-it feature. Seats are very comfortable and roomy -- though not as supportive as the 300's thrones.
Performance comes from a 3.6-liter V6 that makes 305 horsepower, slightly more than the figure delivered by the 300's engine.
Is The 300 Still A Top Choice In The Full Sized Segment?
Yes, but the competition is slowly catching up, and Chrysler will have to do more than release special edition versions of the car to maintain its newfound momentum. This is especially true in a segment that is slowly regaining its popularity and will no doubt be a key battleground for many automakers in the near future.
Our Verdict: Chrysler 300
While the new Chevrolet Impala is a compelling entry in the full-size sedan segment, its lack of an eight-speed transmission keeps it from getting better fuel economy; its front-wheel drive layout, meanwhile, keeps it from matching the Chrysler's fun-to-drive factor -- and also keeps it from winning our comparison.
Take a closer look at the Chrysler 300 >>