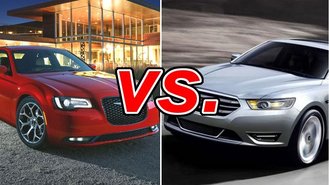 Large luxury sedans are often regarded as dinosaurs on their way to extinction, but both the Chrysler 300 and the Ford Taurus demonstrate that a good makeover can do wonders.
See a side-by-side comparison of the 300 & Taurus »
Comparable features, base engines with near-equal power, and available high-performance packages lead buyers to a choice based on brand loyalty or sticker price. With so many similarities, we took a look at these two models with an eye to defining distinguishing differences.
What the Chrysler 300 Gets Right
The Chrysler 300's 292-horsepower V6 base engine differs little from that of the Taurus, save for its superior highway fuel economy. An available 363-horsepower 5.7-liter V8 adds power while utilizing fuel-saving technology to keep mileage estimates at an acceptable level.
The Chrysler 300 has a list of upscale standard features, such as leather seats, that aren't usually available in base trim levels. Included in this array is a touchscreen interface for electronics management that is easy to use and intuitively designed. The interior is well-appointed and comfortable with a sense of spaciousness.
What the Ford Taurus Gets Right
In addition to a 3.5-liter V6 that produces 288 horsepower, the Ford Taurus also offers an available 2-liter turbocharged four-cylinder with 240 horsepower that delivers better city fuel economy than any Chrysler 300 engine. In SHO trim, a 3.5-liter twin-turbocharged V6 offers a mighty 365 horsepower.
The Ford Taurus shines in its cargo capacity of 20.1 cubic feet -- the largest trunk in the segment. This sedan also provides an even, balanced ride and high reliability ratings.
Which Car is the Best Choice?
With two cars so closely matched in features, designating one as better than the other is a tough process. Each offers most of the features full-size luxury sedan buyers want -- as well as a choice of engines and sport packages. The choice may come down to individual preferences and price.
Our Verdict: Chrysler 300
We think the Chrysler 300 wins by virtue of its extensive array of trim packages, its comfortable interior, and its user-friendly electronics controls. It also offers top safety ratings from both government and Insurance Institute testing.
Take a closer look at the Chrysler 300 »