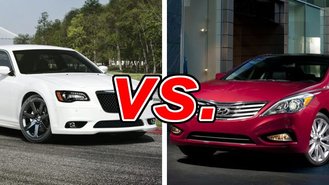 When shopping for a full-size sedan, you have plenty of options. The main question is whether you prefer more luxury or more performance -- and how much you're willing to pay.
If you're looking for something with a sticker price that starts under $40,000, the Chrysler 300 or Hyundai Azera are two respectable choices. Both meet the basic criteria for an upscale full-size sedan -- but which one offers the right mix?
See a side-by-side comparison of the 300 & Azera >>
What the Chrysler 300 Gets Right
Buyers choose from nine different trim levels, and base MSRPs are competitive with some midsize sedans. Since Fiat's takeover of Chrysler, the 300 has gone through a complete redesign that streamlined and softened the car's boxy lines. Its interior is decidedly modern and sleek, with plenty of interior space and an especially copious amount of rear legroom.
The 300 has two available engines: a 292-horsepower 3.6-liter Pentastar V6 and a vicious 6.4-liter HEMI V8 with an output of 470 horsepower and 470 pound-feet of torque. All-wheel drive is optional.
What the Hyundai Azera Gets Right
The Azera, by contrast, has only one well-equipped trim level. Interior styling is elegant and the dashboard stands out as particularly well-designed and clutter-free. The exterior is attractive, especially from the side and rear.
Spacious and comfortable, the Azera feels like a definite step up when compared to Hyundais of old. Power comes from a 292-horsepower 3.3-liter V6, and power goes to the front wheels via a six-speed automatic transmission.
Which Offers the Best Blend of Luxury and Performance?
With nine trim levels, two engines and optional all-wheel drive, the 300 can be tailored to almost any buyer's taste. The Azera simply can not compete with this degree of customization.
Winner: Chrysler 300
The 300 offers buyers an opportunity to fine-tune and tailor a car to specific wants and needs -- there are plenty of ways to stand out from the rest of the crowd, even if they have 300s, too.
Take a closer look at the Chrysler 300 >>