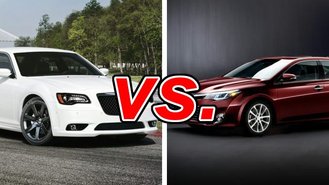 After years of being stereotyped as a sort of "Japanese Buick," the Toyota Avalon was redesigned in 2013 in an attempt to shed its stodgy image. Now, Avalon must go up against the segment's heavyweight contender: the Chrysler 300.
See a side-by-side comparison of the 300 & Avalon >>
So, can the 300 hold its own, or is the Avalon the new standard?
What the Toyota Avalon Does Right
The latest Avalon has creased and sculpted lines that prompt second glances. Inside, there's plenty of room to stretch out, and rear seat occupants find themselves pampered by heated seats and separate climate controls.
The Avalon's 3.5-liter V6 provides adequate power, and if the driver is in a sporty mood, the 6-speed automatic can be bossed around using paddle shifters on the steering wheel. A hybrid powertrain was introduced in 2013, allowing the Avalon to achieve an EPA rating of 40 mpg city and 39 mpg highway.
What the Chrysler 300 Does Right
The Chrysler 300 has a presence on the road that few other cars can match. The clean, simple lines give it a look of solidity and an elegance that is uniquely American. Under the hood, the list of choices is impressive, ranging from a smooth and strong 3.6-liter V6 to a muscular HEMI V8. The V6 is coupled to an 8-speed automatic that helps this large car achieve 31 mpg on the highway. All-wheel drive is also an option.
The 300's driver sits behind a thick-rimmed steering wheel that provides good feel, and the car has very little body roll when cornering. Also within easy reach from the driver's seat is the 8.4-inch touchscreen for Chrysler's UConnect system, which we consider one of the best infotainment systems on the market today.
Now That the New Avalon is Here, is the 300 Still a Contender?
Despite being 2 years older than the Avalon, the 300 still offers excellent performance, ride and handling at a reasonable price. The interiors of both cars provide plenty of space, style and comfort for their occupants.
Dive a little deeper into the options list, and we notice that the 300's V8, updated 8-speed automatic and available all-wheel drive are all things that the Avalon doesn't offer. Combine that with the excellent UConnect system, and the 300 is certainly worth a look.
Our Winner: Chrysler 300
We like that the 300 seems to have a flavor for everyone, with the ability to mix and match V6 vs. V8; sporty vs. luxury; and rear-wheel drive vs. all-wheel drive.
Take a closer look at the Chrysler 300 >>