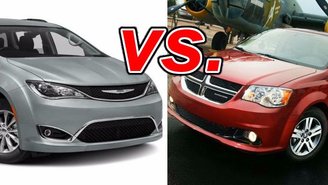 The Chrysler Pacifica is a brand new model that replaces the long-running Town and Country minivan. The Pacifica offers breakout styling for this class and all the latest automotive industry.
Chrysler's other minivan, the Dodge Grand Caravan, carries on for 2017 unchanged. The new Pacifica is more expensive, but it is worth it?
See a side-by-side comparison of the Pacifica & Grand Caravan »
What the Pacifica Gets Right
The Chrysler Pacifica comes equipped with a 3.6-liter V6 engine that produces 287 horsepower, and 262 pound-feet of torque. The V6 is paired with a nine-speed automatic transmission. This setup delivers 22 mpg in combined city and highway driving. The interior is equipped with an 8.4-inch touchscreen, a three-pane panoramic sunroof, and a vacuum cleaner. The exterior features a 360-degree surround camera, parking sensors, and the optional HID headlights. As for the safety, the Pacifica features options like blind spot monitoring and the rear cross-traffic detection. The new Pacifica is the perfect addition to the Chrysler family.
What the Grand Caravan Gets Right
The Dodge Grand Caravan carries the engine as the Pacifica, but uses an older six-speed automatic transmission. You get tons of interior space for the money, as well as the famous Stow 'n Go seats, which fold completely into the floor. The Grand Caravan is offered in several trim levels, from family-friendly to sporty. Although its a value-oriented vehicle, features such as a rear video entertainment systems and leather upholstery are available.
What's the Difference?
The product of newer thinking, the Pacific provides superior technology, refinement, and features. But that might not matter to you since the Grand Caravan is just as practical and costs less.
The Chrysler Pacifica looks and feels like a completely new vehicle (because it is). The Grand Caravan seems like the product of a different era by comparison.
Take a closer look at the Chrysler Pacifica >>