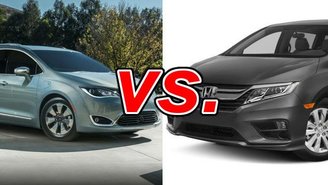 Though it didn't invent the minivan, Chrysler brought it into the mainstream in the 1980s and 1990s. Then, when the popular family hauler seemed dead to rights by sniping crossovers, Chrysler reinvented the segment with the stylish Pacifica in 2017 and its thrifty hybrid version. Feeling the Pacifica's squeeze, Honda redesigned its Odyssey minivan in 2018, giving it a new look, a new powertrain, and class-leading roominess.
Which of these leaders in the family-hauling segment is the best buy for your family? Continue reading to find out.
See a side-by-side comparison of the Pacifica & Odyssey »
What the Pacifica Gets Right
With its $28,090 starting price (destination fees included), the Chrysler Pacifica rings in $2,875 cheaper than the base Odyssey. While this pricing gap is not large enough to move up to a higher trim, it does give buyers a little wiggle room to add some accessories. The base Pacifica is also decently equipped with features like a seven-inch touchscreen, Apple CarPlay, Android Auto, a rearview camera, air conditioning, blind-spot monitoring, and rear parking sensors.
The Pacifica is also arguably the best-looking minivan on the market today. It breaks the boxy mold most minivans are cast in and adds a touch of swoopiness that is rare in this segment. And does this without being offensively overstyled. This beauty carries on inside, as the wraparound dashboard kicks things off nicely, and it's all topped off with elegantly stitched materials. The Odyssey, on the other hand, is far from hideous, but its angular body may be a bit much for some buyers.
While the base Pacifica is just as fuel-hungry as the Odyssey, the Pacifica Hybrid throws a wrench into the equation with its 33 miles of electric-only driving and 32 miles per gallon combined.
What the Odyssey Gets Right
While the Odyssey is pricier than the Pacifica in its base setup, there is a reason for this: It has more features. Its standard features include power front seats, keyless ignition, a USB port, automatic climate control, 18-inch wheels, a seven-speaker audio system, and more. Additionally, the Odyssey is the roomiest vehicle in its class with up to 144.9 cubic feet of cargo space, though you do have to remove 70-pound seats to access this maximum cargo room. It also has nearly two inches more second-row leg room and more than two extra inches of third-row leg room when compared to the Pacifica.
Despite being less powerful than the Pacifica by 7 horsepower, the Odyssey is about a second quicker to 60 mph than its Chrysler rival. Plus, its new optional 10-speed automatic transmission delivers precision shifts without any of the jerkiness or slushiness its nine-speed unit is known for.
Need the Space? Go Honda.
The Honda Odyssey's cabin is larger than the Pacifica's in every key measurement. While these few extra cubic feet of cargo room may not mean much to some, it may be key to buyers who do a lot of hauling.
Verdict: Chrysler Pacifica
The Honda Odyssey gives the Pacifica a run for its money, but the Chrysler Pacifica has revolutionized the minivan market. It's sleek, stylish, plenty roomy and has an optional hybrid that nothing in its class can match.
Take a closer look at the Chrysler Pacifica »