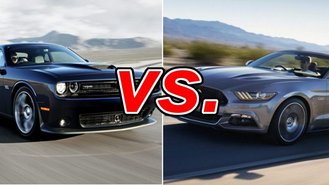 Fifty years ago, the Ford Mustang defined what would end up becoming the muscle car category and a lasting characteristic of American cars. But the big story this year has been about how Ford went and reinvented the Mustang into something with contemporary underpinnings and wrapped in a classic body shape.
See a side-by-side comparison of the Challenger & Mustang »
Ford, however, isn't the only game in town. So how does it stand-up against other reincarnated muscle cars like the Dodge Challenger?
What the Ford Mustang Gets Right
Handling, for the first time. Finally getting fully independent suspension makes the 2015 Mustang a sports car, and not just a straight-line cruiser. It's also helped out by strong engines, with the returning 5-liter V8 and a brand-new 2.3-liter Ecoboost turbocharged four-cylinder, pumping out 310 horsepower (let's forget the fleet-special V6 engine). Leading the charge in the horsepower war for the Mustang is its Shelby GT350 model, which features a 526-horsepower flat-plane-crank V8. All of this contributes to an athletic feel the Mustang, and muscle cars, have never been known for. But it also makes it a truly well-rounded sports coupe.
What the Dodge Challenger Gets Right
The Challenger, also revised for 2015, is much more in the mold of a classic American coupe. It's big, which means it has an almost usable rear seat that the Ford lacks. It also adds some everyday comfort. And for those unenthused by the turbo four noises from the Mustang, the Challenger offers three V8s and one powerful V6 (most with the choice of a six-speed manual or excellent eight-speed automatic) – right up to the ferocious 707-horsepower Hellcat. The Dodge makes no apologies for its American-ness.
The Challenger also takes the lead in terms of luggage hauling, as its trunk can carry up to 16.2 cubic feet of cargo -- nearly 3 cubic feet more than the Mustang. The Challenger is also the better suited of the two coupes for families, as it has a few extra inches of rear legroom, headroom, and hip room.
Which Performs Better?
In short, the Dodge trades comfort and space for overall performance. So if a grand tourer with a big V8 is what you're looking for, look no further than the Challenger. But the Mustang takes that formula and adds handling to the equation. And with upgraded brakes and suspension tuning, a Mustang can be a rival to something like a BMW 4 Series coupe. Its responses and controls are sharper than the Dodge's, too.
Our Verdict: Ford Mustang
Both of these cars have style and nostalgia, but the Mustang adds more to make it a complete package. The Challenger wraps itself in muscle car history. The Mustang introduces those memories to the 21st century.
Take a closer look at the Dodge Challenger »