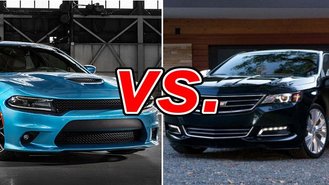 Both the Charger and Impala are revitalized brands brought back to life. Each car lived in glory during the 1960s and 1970s only to be forgotten for a couple of decades.
See a side-by-side comparison of the Charger & Impala »
While the modern Impala returned in the mid-1990s, the Charger is relatively new on the scene, having been reintroduced in 2006. Each has plenty to offer, but does the well-established Impala had an edge versus the relative newcomer Charger?
What the Dodge Charger Gets Right
The modern-day Charger is based on the same platform as the Chrysler 300, making it a four-door sedan with plenty of polish and interior room. It comes in six trim levels and has an appealingly low entry-level price. Those seeking throwback V8 power can opt for today's muscle car versions of the R/T, R/T Road Track, R/T Scat Pack, STR8 392, or STR8 Hellcat. Even the V6 versions of the Charger shell out an impressive amount of horsepower, but the V8s really shine with their ratings ranging from 370 to 707 horsepower.
On the road, the Charger really shines -- especially when you combine any of the engines with the eight-speed automatic transmission.
Buyers choose from an array of option configurations -- the Charger is infinitely customizable.
See more sedan comparisons here »
What the Chevrolet Impala Gets Right
Completely redesigned for the first time since 2006, Chevrolet transformed the Impala into a thoroughly modern car with clear references to its corporate history. The dual-cowl shape of the dashboard, for instance, echoes classic Corvette design. The muscular front fascia borrows some Camaro cues, as does a character line that works up the rear fender.
The top power plant choice is an optional 3.6-liter V6 good for 305 horsepower and an EPA rating of 19 mpg city and 29 mpg highway. The base LS model comes with a slightly more efficient 195-horsepower 2.5-liter four-cylinder -- it's surprisingly responsive, but might prove less so when loaded with five passengers and their luggage in a generous 18.8 cubic-foot trunk.
Can the Charger Overcome the Impala?
There was no competition between the outgoing Impala -- an unremarkable darling of rental fleets -- and the capable, stylish Charger. But this new Impala is an entirely different story. The Charger still has its place for performance buffs, but the Impala is hands-down the better family sedan.
Our Verdict: Chevrolet Impala
With the new Impala, Chevrolet has produced a world-class full-size sedan.
Take a closer look at the Dodge Charger »