The Dodge Charger and Challenger may share a platform, but there's plenty of variety in the attitudes of these two brutish American cars. The Charger delivers the imposing presence that many American buyers still want in their garage, but the Challenger turns to classic muscle car looks in its quest for customers.
Regardless of which car you choose to buy, though, power will never be in short supply. But that begs the question – which should you choose? We looked at some similarities and differences between these models, including a comparison of key horsepower specs and features to help you decide which one to buy.
Is The Dodge Challenger Or Charger Faster?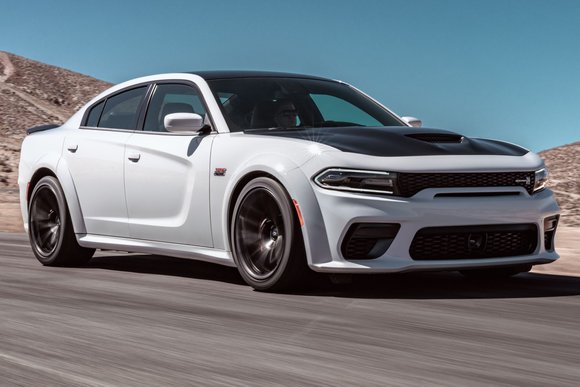 According to Dodge, the Charger SRT Hellcat Redeye has a 0 to 60 mph acceleration time of 3.6 seconds. The Dodge Challenger SRT Super Stock is capable of 0 to 60 acceleration in 3.25 seconds. While this isn't an apples-to-apples comparison, the Challenger's specs do make it a faster car in that matchup.
It's important to keep in mind that many factors can play a part in how fast a car like the Charger or Challenger is. Variables like tires, car weight, outside temperature, gasoline octane, road conditions, and more may impact these numbers. As a result, we suggest taking these specs with a grain of salt.
The Dodge Charger balances the driving character of a sports sedan with the relaxed attitude of a comfy cruiser, offering ample stretch-out room for five passengers and at least 292 horsepower, courtesy of the standard 3.6-liter V6. Rear-drive is standard, but all-wheel drive is also optional with the base engine.
The Charger is a lot more interesting with one of the three available V8 engines. There's a 5.7-liter with 370 horsepower, a 6.4-liter that delivers 485 horsepower, and a 717-horsepower, supercharged 6.2-liter, reserved for the SRT Hellcat. The R/T Scat Pack arguably offers a good mix of price and performance.
The Dodge Challenger isn't shy about its performance potential. The long hood, short deck, and available body graphics leave no doubt that it's ready to rumble. Buyers looking for equal parts performance and curb appeal might find this car simply irresistible.
The Challenger is large for a sports coupe, offering a usable rear seat – although getting back there is tricky. The engines and automatic transmissions are shared with the Charger, from the base V6 to the supercharged V8 installed in the range-topping Hellcat.
If your destination is the local drag strip, the Challenger may feel right at home. Although the Challenger may seem like a relative dinosaur due to its age, this may be a good reason why the car remains popular among drivers looking for relatively cheap thrills.
Dodge Charger vs. Challenger Price
The Dodge Challenger is cheaper than the Charger, but not by much. Based on current Challenger prices, the coupe has an MSRP starting at $32,025 for the SXT with rear-wheel drive. For comparison, Charger prices start at $34,095. That's a difference of a little over $2,000, though rebates may impact your bottom line.
If you're comparing Hellcat prices, the Challenger has a lower price. It has an MSRP of $67,120, making it significantly more affordable than the Charger Hellcat's $77,595 sticker price. It should come as no surprise that the Challenger remains a popular choice when it comes to pricing despite the model's age.
Charger vs. Challenger Size & Weight
The Dodge Charger SXT has a curb weight of 3,964 lbs, whereas the Charger's weight comes in at 3,841 lbs for the same trim. The length of the Charger is 198.4 inches, while the Challenger's is 197.9 inches. This means the Charger is both longer and heavier than the Challenger by comparison.
Charger passenger volume is also better at 105 cubic feet compared to 94 cubic feet in the Challenger. Headroom is slightly better in the Challenger at 39.3 inches, compared to 38.6 inches in the Charger. The Charger's rear legroom is much better at 40.1 inches vs. 33.1 inches in the Challenger.
Charger vs. Challenger: Which Is Better?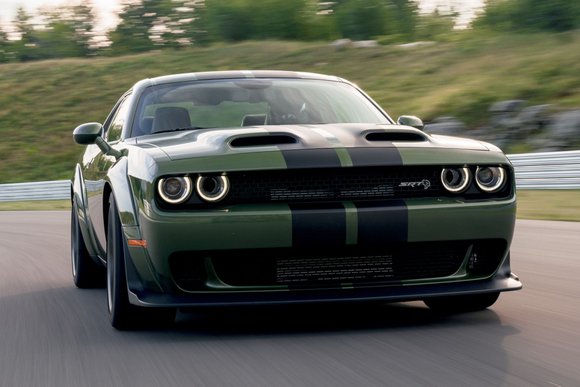 The Dodge Charger may be better when it comes to interior room and comfort, but its extra mass does no favors for performance. The Challenger is a tad quicker and easier to whip around corners (although compared to lither cars like the Ford Mustang and Chevrolet Camaro, it's still big and ponderous, even in Hellcat form).
Based on our latest Dodge Charger review, the 4-door sedan can be a pretty good value for the money, especially when taking advantage of manufacturer Charger incentives. As the industry shifts toward EVs, cars like the Charger are becoming increasingly rare for those who like the growl of a V8.
The Challenger does offer a manual transmission, which some buyers demand in a performance car. Both cars are exciting and powerful, but the Challenger may make more sense from a performance perspective. We recommend considering these factors when test-driving the Charger and Challenger.