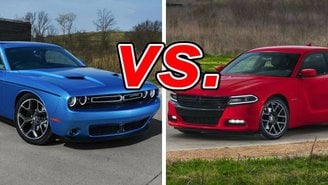 The Dodge Charger and Challenger may share a platform, but there's plenty of variety in the attitudes of these two brutish American cars. The Charger delivers the imposing presence that many American buyers still want in their garage, but the Challenger turns to classic muscle car looks in its quest for customers. Regardless of which you choose, though, power will never be in short supply.
But that begs the question – which should you choose? Let's find out.
See a side-by-side comparison of the Charger & Challenger »
What the Charger Gets Right
The rear-drive Charger balances the driving character of a sport sedan with the relaxed attitude of a comfy cruiser, offering ample stretch-out room for five passengers and at least 292 horsepower, courtesy of the standard 3.6-liter V6. Rear-drive is standard, but all-wheel drive is optional with the base engine.
The Charger is a lot more interesting with one of the three available V8 engines. There's a 5.7-liter with 370 hp, a 6.4-liter that delivers 485 hp, and a 707-hp, supercharged 6.2-liter, reserved for the high-performance Hellcat. All engines are hooked to an eight-speed automatic transmission.
While the Charger might stir up feelings of nostalgia, it's doesn't skimp on modern technology. Buyers can load it with advanced features like lane keeping assist, automatic high beams, and forward collision alert with automatic braking.
What the Challenger Gets Right
The Challenger isn't shy about its performance potential. The long hood, short deck, and available body graphics leave no doubt that it's ready to rumble. Buyers looking for equal parts performance and curb appeal might find this car irresistible.
The Challenger is large for a sport coupe, offering a usable rear seat – although getting back there is tricky – and sedan-like trunk space. Engines and automatic transmissions are shared with the Charger, from the base V6 to the supercharged V8 installed in the Hellcat. In the case of the Challenger, the V8 engines come standard with a six-speed manual transmission, and the eight-speed automatic is optional.
What Matters More?
The Charger obviously wins on interior room and comfort, but its extra mass does no favors for performance. The smaller Challenger is a tad quicker and easier to whip around corners (although compared to lither cars like the Ford Mustang and Chevrolet Camaro, it's still big and ponderous, even in Hellcat form). The Challenger also offers a manual transmission, which some buyers demand in a performance car.
Our Verdict: Dodge Challenger
Both cars are exciting and powerful, but the Challenger makes more sense from a performance perspective.
Take a closer look at the Dodge Charger »