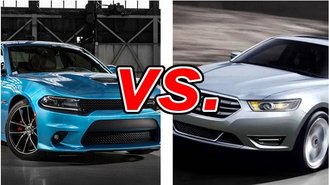 In the large sedan market, fuel economy has not historically been the number one consideration for most shoppers. Now, however, two of the segment's major players boast powertrains that can achieve over 30 miles per gallon on the highway. So, which large sedan provides the best combination of space, pace, and thrift?
See a side-by-side comparison of the Charger & Taurus »
What the Dodge Charger Does Right
On the outside, the Charger looks aggressive, with bold styling that stands out on the road and ties in cues from Dodge's historic models. Inside, there's a roomy cabin, and the materials are high quality. An easy-to-use color touchscreen is standard on all models.
The Charger moves down the road in rear-wheel or all-wheel drive form courtesy of a 3.6-liter V6 or a 5.7-liter Hemi V8. The V8 provides plenty of muscle, but with 292 horsepower, the V6 is no slouch. The V6 also has the benefit of being paired with an 8-speed automatic that offers up an EPA estimate of 19 mpg city and 31 mpg highway.
See more sedan comparisons here »
What the Ford Taurus Does Right
The Taurus's tasteful and well-appointed interior complements its handsome, sleek exterior nicely. The MyFord Touch interface received a much-needed upgrade in 2013, but the touch sensitive buttons aren't to everyone's liking. Luckily, the system's voice command is intuitive and responsive.
Taurus shoppers can choose from a 3.5-liter V6 or a turbocharged 2-liter EcoBoost four-cylinder that can also achieve 31 miles per gallon on the highway. Although the V6 doesn't manage to break the 30 mpg barrier, it does put out a healthy 288 horsepower. All engines push their power through a smooth 6-speed automatic. Like the Charger, all-wheel drive is available.
Which Provides the Best Combination of Power and Economy?
Both cars are worthy contenders. They provide a pleasant driving experience, ample space for carrying four adults and their luggage, and some of the best fuel economy numbers seen in this segment. Although both cars can be equipped to achieve 31 mpg, the Ford's 2-liter engine gives up two cylinders and 52 horsepower to the Dodge. In addition, the Charger's 8-speed automatic transmission delivers a much more flexible power band than does the Ford's six-speed.
Our Verdict: Dodge Charger
Although the Taurus is an excellent all-rounder, the Charger's powertrains give shoppers more for their money without sacrificing fuel economy.
Take a closer look at the Dodge Charger »