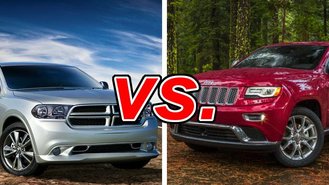 The latest Jeep Grand Cherokee has proven a popular SUV and an example of how to marry a capable off-road ability with on-road style -- but it's still a dedicated two-row, five-seat SUV.
The Dodge Durango shares many of the Grand Cherokee's underpinnings but is available with seven seats.
Is bigger better in this case?
See a side-by-side comparison of the Durango & Grand Cherokee >>
What the Dodge Durango Does Well
The Dodge Durango manages to be a versatile SUV. Unlike mainstream three-row crossovers, it's a capable towing machine. It's also available with an efficient V6 or a brawny V8. The third-row seat is actually usable for adults and there's a vast cargo area with all of the seats folded down. What's more, the interior is a very nice place to be; and the latest version now has the impressive UConnect touchscreen that's better than most touchscreen systems.
What the Jeep Grand Cherokee Does Well
While the Jeep can't beat the Durango for cargo or people-carrying abilities, it can handily beat it off-road. That's because the Grand Cherokee is better suited to the rough stuff with less bulk, more ground clearance, more advanced four-wheel drive systems and an available air suspension. The interior is similarly well-appointed, though top levels get even more sumptuous trimmings. The Grand Cherokee is also available with an engine the Durango doesn't have: the V6 turbo-diesel that gets truly impressive fuel economy ratings and boasts more torque than the V8.
Is Bigger Better?
The Grand Cherokee meets the needs of a broader spectrum than the Durango. As good as the Dodge is, it can't quite offer the same capabilities and luxuries that enable the Jeep to compete with mainstream and luxury SUVs. Neither does the Dodge offer the Jeep's badge prestige.
Our Verdict: Jeep Grand Cherokee
The Durango is a useful three-row SUV that gives buyers a great overall package in the crossover and full-size SUV segments. But as an SUV that does the most and offers the most to buyers, the Jeep Grand Cherokee is a seriously impressive machine.
Take a closer look at the Dodge Durango >>