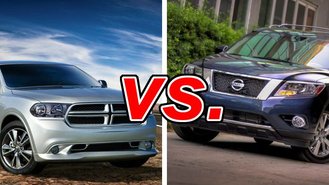 They were once based on rugged pickup trucks, but now the Dodge Durango and Nissan Pathfinder ride proudly atop passenger-car platforms. Although they're officially crossovers, both have retained much of the capability that made them popular in the first place.
See a side-by-side comparison of the Durango & Pathfinder >>
Given their revised roles in the marketplace, which is better positioned to assume family-hauling duties?
Where the Durango Excels
Buyers who rough it on the weekends or grind their own sausage need not worry about being seen driving a Durango. It's a substantial machine with muscular styling and a four-section grille cribbed from the RAM pickup. And yet the seven-passenger interior is fully up to the task of keeping the entire family comfortable and entertained. With the second- and third-row seats folded, the Durango holds up to 84.5 cubic feet of cargo.
Unlike most crossovers, the Durango is rear-wheel drive and as such can tow 6,200 pounds with the standard 290-horsepower 3.7-liter V6. When equipped with the available 5.7-liter V8 with 360 horsepower, towing capacity rises to 7,400 pounds, on par with many full-size SUVs. Full-time all-wheel drive is available with the V6, and V8 models can get on-demand four-wheel drive with low-ranging gearing for moderate off-road ability.
Where the Pathfinder Excels
The Pathfinder lost 500 pounds in its transition to a crossover, but it's hard to tell where it went. The interior seats seven adults in impressive comfort, even in the third row. With the seats neatly folded, there's 80 cubic feet of cargo space. The Pathfinder's 5,000-pound towing capacity isn't too far below the old model's.
What buyers gain in everyday driveability is significant. The Pathfinder handles easily and cruises with the smoothness and quiet of a large sedan. The 260-horsepower 3.5-liter V6 takes it from zero to 60 mph in 8 seconds and delivers 22 mpg in combined driving, or 21 mpg with all-wheel drive, terrific efficiency for a seven-passenger vehicle. The interior is especially well-constructed and quite attractive, especially in top Platinum trim.
The Bottom Line
In terms of power and overall capability, the Durango is the quintessential over-achiever. Buyers don't have to sacrifice an ounce of interior comfort or space to get all that ruggedness.
It's easy to appreciate the Pathfinder for its efficiency and pleasant, car-like demeanor. Outdoor types might miss the Pathfinder of yore, but the current crossover is right on target with active families.
Our Verdict: Dodge Durango
The versatile and stylish Durango gets the job done on all fronts.
Take a closer look at the Dodge Durango >>