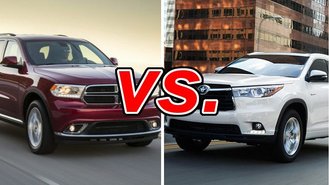 The Dodge Durango and Toyota Highlander occupy an interesting niche in the crossover market. They come close to a traditional SUV in style and capability, but ride on passenger-car platforms for driveability and reasonable efficiency.
See a side-by-side comparison of the Durango & Highlander »
Think of them as crossovers with muscle -- or SUVs that are down with the times. In case either of those sounds good to you, take a look at how the Durango and Highlander stack up in our view.
What's Good About the Durango
Buyers who rough it on the weekends or grind their own sausage need not worry about being seen driving a Durango. It's a substantial machine with muscular styling and a four-section grille cribbed from the RAM pickup. And yet the seven-passenger interior is fully up to the task of keeping the entire family comfortable and entertained. With the second- and third-row seats folded, the Durango holds up to 84.5 cubic feet of cargo.
Unlike most crossovers, the Durango is rear-wheel drive and as such can tow 6,200 pounds with the standard 295-horsepower 3.6-liter V6. When equipped with the available 5.7-liter V8 with 360 horsepower, towing capacity rises to 7,400 pounds, on par with many full-size SUVs. Full-time all-wheel drive is available with the V6, and V8 models can get on-demand four-wheel drive with low-ranging gearing for moderate off-road ability.
What's Good About the Highlander
Despite a recent redesign that softened the Highlander a bit, it, like the Durango, neatly avoids the mom-mobile styling found on many crossovers of this ample size. Although it avoids the typical crossover look, the Toyota behaves like a passenger car. You get precise handling, a relaxing ride, and excellent maneuverability for a seven-passenger vehicle. Cargo space comes in at 83.7 cubic feet, which is about average for this class.
The Highlander starts out in front-drive form with a 2.7-liter four-cylinder good for 185 horsepower. Most buyers will be more comfortable with the available 270-horsepower 3.5-liter V6. Even with all-wheel drive, the V6 model accelerates from zero to 60 mph in a quick 7.5 seconds -- and can tow up to 5,000 pounds. In its most popular configuration, front-drive V6, the Highlander gets 21 mpg in combined city and highway driving.
What Matters More?
The Durango is brawny enough to make us question why truck-based SUVs are still for sale. With available V8 power and all-terrain capability, it's definitely on the muscle end of the crossover spectrum. The Highlander is certainly no weakling, but focuses more on family-car virtues like easy handling, efficiency and interior space.
Our Verdict: Toyota Highlander
Buyers looking for all the things that make crossovers such popular family vehicles will find them in the Highlander.
Take a closer look at the Dodge Durango »