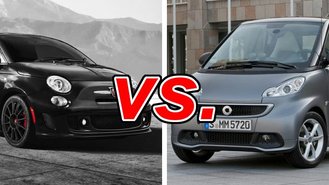 There are small cars, and then there are small cars.
When sorting through the tiniest rides on the market, two models stand out: the Fiat 500, because it somehow manages to be sexy, and Smart Fortwo because it somehow manages to be so darn small. With attributes like that, we couldn't resist instigating a comparison.
See a side-by-side comparison of the 500 & Fortwo >>
The Petite Italian
It's easy to appreciate the visual charm of the Fiat 500, even if micro-cars aren't your cup of tea. The contours of its silhouette are very Italian, giving the little Fiat a level of panache not found elsewhere in this class. Available paint options include cheeky hues a conventional car could never wear without inciting laughter.
Available as a hatchback or convertible, the 500 carries a 101-horsepower 1.4-liter four-cylinder and five-speed manual transmission. Performance is lively enough with the standard powertrain, but opting for the six-speed automatic slows things down considerably. The 500 is one of those cars that seems designed for a stick shift anyway. Gas mileage reaches 40 mpg on the highway, about as good as you can get in a non-hybrid.
Adults ride comfortably in the front and face a body-color dashboard that's simple but attractive. The back seat is a cozy place for pre-teen kids, and is best avoided by adults.
The Pocket-Size Smart
At less than nine feet long, the Smart Fortwo is a rolling conversation-starter. It's shockingly short, with no back seat and almost no front or rear overhang. What you get a is a passenger compartment for two (hence, the name), a small but usable cargo area, and the ability to maneuver and park in cramped urban spaces. The tiny three-cylinder engine is mounted in the rear, so there's no need for a conventional hood.
As expected, fuel economy is excellent, though no better than the larger Fiat's. With only 70 horsepower on tap and a mandatory automated manual transmission that is universally reviled, the Smart needs 14.1 seconds to hit 60 mph and tops out at 90. These performance numbers are similar to micro-cars of the 1970s. Even the most frugal of today's drivers will find the Smart to be a slowpoke.
Shrinking It Down
With genuine personality and spunk, the Fiat 500 is a car built for real people. The Smart only seems fit for paranoid parkers and former SUV owners racked with guilt.
Our Verdict: Fiat 500
The Fiat is the clear choice for those not suffering from a small-car fetish.
Take a closer look at the Fiat 500 >>