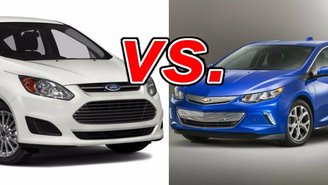 The Ford C-Max Hybrid has been a success for the last few years, as it keeps carrying over without any major changes. This car is comfortable, small, fun to drive, and best of all, delivers 44 mpg. The C-Max doesn't drive like an energy-saving vehicle; it drives like an ordinary car. The C-Max comes with numerous options and features, and with the right trim level, this car can be quite futuristic.
Chevrolet's Volt features all-electric power and an onboard generator for increased range. Redesigned just last year, the current Volt is more efficient and attractive than the first-generation model.
Can the long-running C-Max compete with the newer Volt?
See a side-by-side comparison of the C-Max Hybrid & Volt »
What the C-Max Gets Right
The Ford C-Max is equipped with an electric motor and a 2-liter gasoline engine, which together produce 188 horsepower. On the outside, the C-Max keeps its fun, simple look, which gives it a European feel. On the inside, the C-Max features a nice, sleek design and features like a six-speaker audio system, Ford's SYNC infotainment interface, dual-zone automatic climate control, blind spot mirrors, and even a leather-wrapped steering wheel and leather seats. It's fair to say that C-Max is competitive with anything in its class.
What the Volt Gets Right
Volt received a full redesign last year that made vastly better-looking inside and out. Standard features include keyless ignition, LED exterior lighting, and a six-speaker sound system. The Volt is equipped with two electric motors, which together produce 149 horsepower. The vehicle is rated to travel up to 53 miles on electric power alone. After this, the gas generator starts and feeds the battery. The Volt gets 42 mpg in combined driving with the generator in use. The main selling point here is range. The Volt's onboard generator allows it to travel up to 420 miles.
Which Should You Buy?
Although the C-Max makes quite an impression, it can't match the Volt when it comes to safety. The C-Max receives merely "acceptable" ratings in some collision tests.
The Volt's impressive all-electric range and superior safety ratings put it on top.
Take a closer look at the Ford C-Max Hybrid >>