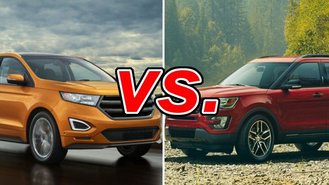 The SUV segment is rather crowded these days, and Ford even offers plenty of variety within its own lineup. The flagship Explorer has been around seemingly forever, and after a 2011 redesign will be a Ford staple for many more years. The midsized Edge is a fairly new addition to the lineup, as it debuted in 2007, but it also received a redesign in 2011, giving it a modern look that rivals that of the Explorer.
See a side-by-side comparison of the Edge & Explorer >>
So, the question: Is the large and roomy Explorer or the agile and thrifty Edge the better buy?
Going Head-to-Head
As the smaller sibling, the Edge checks in with a slightly lower base price -- $28,100 to the Explorer's $29,600 -- giving it a small advantage right from the start. With the extra money spent on the Explorer, however, buyers get more standard features, including rear climate control, a leatherette gearshift knob, power driver's seat, three rows of side-curtain airbags and roof rails.
In terms of available space, there is really no competition, as the larger Explorer has room for seven passengers to the Edge's five-passenger capacity and up to 80.7 cubic feet of cargo to the Edge's 68.9-cubic-feet capacity. The Explorer also wins in maximum towing capacity in its base model, as it can tow up to 5,000 pounds, whereas the Edge is limited to just 2,000 pounds.
Under the hood, both models come standard with a 3.5-liter V6 engine that produces 285 horsepower in the Edge and 290 ponies in the Explorer. Both are also available with a 2-liter turbocharged four-cylinder with 240 horsepower. The Explorer pulls away with its range-topping 3.5-liter EcoBoost V6 that puts down 365 horsepower to the Edge's range-topping 3.7-liter V6 with 305 horsepower. In fuel economy, the smaller Edge does gain an advantage, as the base model gets 19 mpg city and 27 mpg highway to the base Explorer's 17 mpg city and 24 mpg highway.
Our Verdict: Ford Explorer
Less money and better fuel economy is a good start for the Edge, but it cannot overcome the useful space and bang for the buck that the Explorer offers. Additionally, the Explorer's performance-oriented Sport model that features the EcoBoost V6 gives buyers the pep they want and the capabilities they need in an SUV.
Take a closer look at the Ford Edge >>