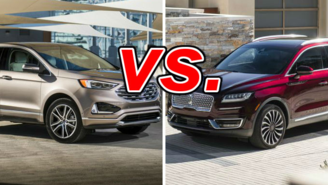 It seems like automakers are coming out with new SUVs and crossovers every day, which makes sticking out even harder than before. Ford and its more luxurious counterpart, Lincoln, have come out with revamped mid-size SUVs with the Edge and the Nautilus, respectively. Both SUVs recently received large updates and both share a lot of the components, so we're comparing the two to see which one is the better buy for the majority of drivers.
See a side-by-side comparison of the Edge & Nautilus »
What the Edge Gets Right
As the non-luxury version, the Ford Edge is the more affordable option of the two. The 2019 Edge starts at $30,990 (prices include destination), while the most affordable Nautilus is priced at $41,335. The $10,345 difference means you can get into a flagship Edge Titanium and still not encroach on the base Nautilus' price tag.
Despite sharing the same platform, the Edge is the vehicle that's a little larger on the inside. The Edge has more overall passenger volume than the Nautilus, as space measures in at 113.9 cubic feet compared to 108.3 cubic feet, respectively. There's also more front shoulder room, front head room, rear head room, rear hip room, rear shoulder room, and rear leg room in the Edge. Cargo volume is more impressive in the Edge, too, as the SUV can hold up to 73.4 cubic feet of cargo space. The Nautilus is rated to hold up to 68.8 cubic feet of cargo in total.
What the Nautilus Gets Right
With its higher price tag, the Nautilus' comes with a lengthier list of standard features. Lincoln's SUV comes with things like an auto-dimming rearview mirror, a remote start system, dual-zone automatic climate control, remote keyless entry, heated front seats, power-folding heated exterior mirrors, and Ford's Sync3 infotainment system, which includes an eight-inch touchscreen as standard.
In addition to having more luxury features as standard, the Nautilus is the better-looking option. The vehicle's curvier design and shapely cues clearly help the Nautilus differentiate itself from the Edge and from other mid-size offerings.
Is Luxury Worth the Extra Cost?
If luxury and style is what you're looking for, the Nautilus is the clear option. It has more standard features, more luxurious options, and has a more striking design. Unfortunately, the extra luxury comes at a steep price premium.
Verdict: Ford Edge
The Ford Edge, especially after getting its redesign, is a more handsome and feature-packed SUV. Since the Edge shares a lot of the same components as the Lincoln Nautilus, you're getting an SUV that feels high-end, but doesn't have a premium price. Its more affordable price tag, more spacious cabin, and available sporty model with the new Edge ST makes it the clear victor over the Nautilus.
Take a closer look at the Ford Edge »