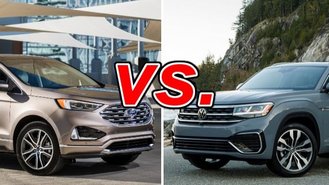 The second-generation Ford Edge has roamed soccer field parking lots since 2015, making it a relative senior in this changing segment. One of the latest additions to the two-row, midsize crossover segment is the Volkswagen Atlas Cross Sport, which is based on the older VW Atlas but with a new glasshouse, roof, and rear hatch.
Can the aging Edge hold its own against the all-new Atlas Cross Sport? Find out below.
See a side-by-side comparison of the Edge & Atlas Cross Sport »
What the Atlas Cross Sport Gets Right
The VW Atlas Cross Sport does its best to upgrade on the regular Atlas' bland styling with a shorter glasshouse, smaller body, a lower roofline, and a more forward-raked rear glass. These looks aren't as sporty as the Edge, but for buyers who prefer not to stand out in a crowd without being too vanilla, the Atlas Cross Sport is a great Goldilocks model.
Inside, the Atlas Cross Sport boasts a neat and clean cabin design that's more modern and less busy than the Edge's interior. It's a great balance that's sure to offend no one.
The Atlas Cross Sport also boasts a roomier cargo area. It offers 40.3 cubic feet of cargo space behind the second row, and a total of 77.8 cubes. These figures beat the Edge by 1.1 and 4.4 cubic feet, respectively.
The Atlas Cross Sport's front seats are firm and supportive, plus they offer a wide range of adjustments. While they're far from plush, they easily trump the Edge's flat and unsupportive base seats.
Finally, with a $31,565 base price including destination, the Atlas Cross Sport is $1,275 cheaper than the Edge.
What the Edge Gets Right
The Ford Edge rolls in with a sharp look that boasts loads of angles, cutlines, and creases to enhance its sportiness. This dose of aggression is further advanced in the ST model with its sporty wheels and black grille.
Like the Atlas Cross Sport, the Edge has a four-cylinder and V6 engine, but they're both far more powerful than the VW's offerings. The Edge's base 2.0-liter four-cylinder engine offers 250 horsepower, which beats the Atlas Cross Sport by 15 hp. The Edge ST gets a 2.7-liter twin-turbocharged V6 with 335 hp, which dwarfs the 276 hp found in the Atlas Cross Sport's optional 3.6-liter V6.
The Edge rings in at a slightly higher price than the Atlas Cross Sport, but there's a good reason for that. It boasts a standard 8-inch touchscreen, in-car wi-fi, dual-zone automatic climate control, rain-sensing wipers, and much more.
The Edge also boasts superior fuel economy. In its base setup, it delivers an EPA-estimated 21 miles per gallon city, 29 mpg highway, and 24 combined. The base Atlas Cross Sport lags behind by five mpg highway and two mpg combined. With their V6 engines, the Edge achieves 19/26/21 mpg compared to the Atlas Cross Sport's 17/23/19 mpg.
Go VW if You Want Something Unique
The Ford Edge, while stylish, is relatively common. For buyers seeking something they won't see at every other stoplight, the VW Atlas Cross Sport is the crossover for them.
Our Verdict: Ford Edge
Though its cabin is grossly outdated in terms of style, the Ford Edge offers plenty of room and tech to make up for it. Plus, with its stylish exterior, impressive performance, and decent fuel economy, the Edge takes home a comfortable victory against the VW Atlas Cross Sport.
Take a closer look at the Ford Edge »