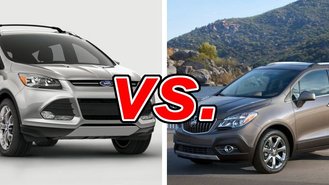 Consumers continue to clamor for compact crossovers, and automakers have responded by making them more stylish, fuel efficient, and luxurious.
The long-running Ford Escape has benefited from this trend, and the Buick Encore is a product of it. Does the plusher Buick threaten the Ford's supremacy in this league?
See a side-by-side comparison of the Escape & Encore »
What the Escape Gets Right
The current Escape started gaining praise from the moment it debuted. Along with expressive styling inside and out, the Escape boasts responsive handling and overall nimbleness that make it a very satisfying daily driver. High-quality materials are deployed throughout the cabin, and the sweeping dashboard is exceptionally attractive and functional.
Fuel economy is quite good with any of the three available four-cylinder engines. The top choice, a 240-horsepower
2-liter turbo, delivers a potent combo of power and efficiency.
What the Encore Gets Right
The Encore is considered a subcompact, but its interior is more spacious than you might expect given its petite exterior dimensions. There's 18.8 cubic feet of cargo space behind the rear seat, which is more than you get in Buick's largest sedan. With the seat folded, you're looking at 48.4 cubic feet, about the same as a compact wagon, but 20 cubic feet shy of the Escape. The front passenger seat folds down, a nifty feature that allows you carry long objects (up to 8 feet) and still close the tailgate.
The Encore's turbocharged 1.4-liter four-cylinder engine produces 138 horsepower and is paired with a six-speed automatic transmission. An optional version of the engine is good for 153 horsepower. All-wheel drive is available across the board in place of the standard front-drive setup. You can expect to get about 28 mpg in combined city and highway driving. The Encore is generously equipped from the start and becomes downright luxurious as you move up the trim levels.
Are They Equals?
The Encore's elegant look and feel will surely appeal to buyers with a taste for luxury. It's the type of vehicle that we expect from Buick in every way except size.
The Escape is a bit brash by comparison, but can carry more cargo and performs with gusto for this class.
Our Verdict: Ford Escape
The Encore is a very pleasant crossover that can be as luxurious as you want it to make it. The larger Escape is more capable overall and no slouch in the comfort department, either. That makes it our pick in this match-up.
Take a closer look at the Ford Escape >>