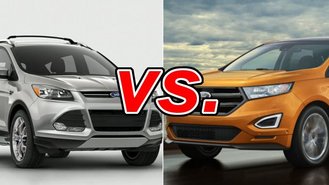 Ford isn't shy about offering a wide selection of crossovers and SUVs. Two of its entries in the crowded marketplace are the compact Escape and midsize Edge crossovers.
Though the Edge and Escape are very different in size and style, you may find yourself debating which is better for your needs. The Escape offers high style and plenty of character, but the Edge features a more modern, grown-up look and a larger cabin. It all boils down to which one offers the most for your dollar.
See a side-by-side comparison of the Escape & Edge »
The Case for Escape
The current Escape started gaining praise from the moment it debuted. Along with expressive styling inside and out, the Escape boasts responsive handling and overall nimbleness that make it a very satisfying daily driver. High-quality materials are deployed throughout the cabin, and the sweeping dashboard is exceptionally attractive and functional.
Fuel economy is quite good with any of the three available four-cylinder engines. The top choice, a 240-horsepower
2-liter turbo, delivers a potent combo of power and efficiency.
The Case for Edge
The larger Edge starts out with the 2-liter turbo, but can also be equipped with a 280-horsepower V6 or a turbocharged V6 good for 315 horsepower. The Edge also comes with additional standard equipment such as privacy glass, power outlets, aluminum wheels, and rear side airbags.
Seating is limited to five passengers (there is no third row), but you'll get no complaints from the backseat. Legroom is generous in the outboard positions, and headroom is good all around. It's worth noting that you get almost 40 cubic feet of cargo space with the rear seat in use.
Does Size Matter?
The Escape is stylish, nimble, and reasonably efficient. It delivers exactly what most buyers want in a compact crossover. The Edge is an altogether different class, which shows in its more powerful engines and high feature content.
Our Verdict: Ford Edge
The Edge may cost more, but its superior capability is worth it.
Take a closer look at the Ford Escape »