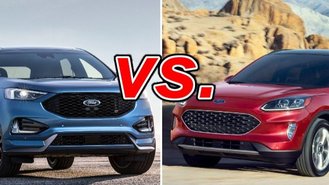 Ford is shifting to a lineup that's made up of almost entirely of crossovers and SUVs, and two stalwarts in its lineup are the Ford Edge and Ford Escape. The midsize Edge has remained mostly unchanged since its 2015 redesign, while the Escape is all-new for the 2020 model year.
Can the aging Edge keep pace with its fresher little brother? Find out below.
See a side-by-side comparison of the Edge & Escape »
What the Escape Gets Right
The Escape costs $26,725 including destination to start, which makes it over $6,000 cheaper than the Edge, which is priced from $32,840.
The Ford Escape is also just 180.5 inches long and 74.1 inches wide, making it over 8 inches shorter and neraly 2 inches narrower than the Edge. This makes it an easier crossover to navigate crowded city streets and jam-packed parking lots in.
The Escape went through a complete redesign in 2020, giving it the latest Ford design language. This new look includes a swoopy exterior design and a more car-like interior look that includes a dash-top touchscreen, a lower dash for enhanced visibility, and more. The Edge, on the other hand, has a very dated interior design that arrived in 2015.
Though the Edge and Escape are both IIHS Top Safety Pick models, the smaller Escape gets higher ratings with its "Marginal" standard headlights and "Superior" vehicle-to-pedestrian front crash prevention. The Edge received "Poor" and "Advanced" ratings, respectively.
The Escape also gets above-average fuel economy with its standard 1.5-liter turbocharged three-cylinder engine. It delivers an EPA-estimated 27 miles per gallon city, 33 mpg highway, and 30 combined. This easily beats the base Edge's ratings of 21/29/24 mpg (city/highway/combined).
The Escape Hybrid improves fuel economy even further to 44/47/41 mpg. Also, an Escape Plug-In Hybrid is coming soon with an anticipated 30-mile all-electric range.
What the Edge Gets Right
The larger Ford Edge offers a roomier cabin with its rear seats featuring 40.2 inches of leg room, 40.3 inches of head room, and 60.5 inches of shoulder room. The Edge furthers its advantage with 39.2 cubic feet of cargo room with the rear seats upright and 73.4 cubes with the seats folded. These measurements beat the Escape by 5.7 and 8.4 cubic feet, respectively.
The Edge makes good use of its extra cost with a large, sharp standard touchscreen, LED headlights, dual-zone automatic climate control, rain-sensing wipers, and more. The Escape comes up short with a 4.2-inch standard infotainment screen, manual climate control, and plain old windshield wipers.
The Edge boasts superior power across the board with its standard 250-horsepower, 2.0-liter turbo four-cylinder engine and wild 335 hp from the ST trim's 2.7-liter twin-turbo V6. The ST also offers superior handling.
Need Room or Performance?
The Ford Edge can't quite beat its popular little brother overall, but it's great for folks who need a larger rear seat or additional cargo space. Buyers seeking a performance crossover will find what they're looking for in the 2020 Edge ST, as its twin-turbo V6 hurtles it to 60 mph in about six seconds.
Our Verdict: Ford Escape
With its balance of performance, roominess, style, and fuel economy, the Ford Escape squeaks out a tight victory over its big brother, the Ford Edge. Once Ford gets around to redesigning the Edge, this may change.
Take a closer look at the Ford Edge »