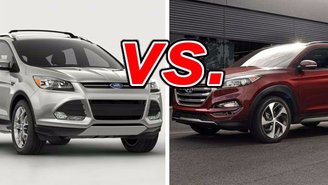 The compact crossover market is flooded with great choices, but Ford remains at the head of the class with its stylish Escape. Of course, there are highly competitive alternatives like the recently redesigned Hyundai Tucson.
Does the new-and-improved Tucson have what it takes to surpass the Escape?
See a side-by-side comparison of the Escape & Tucson »
What We Love About the Escape
The Escape offers three four-cylinder engines options, including a 1.6-liter EcoBoost that powers most models and delivers up to 33 mpg on the highway. There's also 2-liter version of the EcoBoost that delivers a potent 240 horsepower.
The cabin is elegant, quiet, and loaded with storage space. You also get plenty of headroom and an adult-size rear seat. We like driving the Escape, and find that it handles extremely well. Four trim levels, available all-wheel drive, and an attractive exterior make this a tough one to beat.
What We Love About the Tucson
The Tucson wears all-new styling for 2016 that's incredibly sporty for this class. We also appreciate the availability of five trim levels, two four-cylinder engines, two transmissions, and all-wheel drive. Any buyer can get exactly what he needs.
The interior is nice enough, and options are decent, though largely dependent on the trim level you choose. What we like best, though, is driving the Tucson. The sport-tuned suspension and precise steering makes it nimble and fun to drive.
Does the Tucson Compete with the Escape?
There's a lot to like in the Tucson. As nicely styled as the Ford is, many buyers will prefer the Hyundai's more aggressive looks. It's also rewarding to drive and can be equipped anyway you want.
The Escape, however, gives you a larger interior, better gas mileage, and three engine choices.
Our Verdict: Ford Escape
There's a reason the Escape is so popular. It's a well-rounded crossover that really delivers in all areas that buyers care about.
Take a closer look at the Ford Escape >>