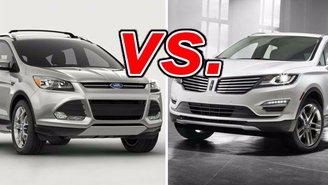 Ford's best-selling crossover SUV, the compact Escape delivers the utility and efficiency that most buyers demand, along with a healthy dose of style and interior refinement. The Lincoln MKC, which is based on the Escape, offers all those benefits, plus upscale looks and enough features to quality as a luxury vehicle.
Although they ride on the same platform and are mechanically similar, the Escape and MKC are hardly twins. Each has its own personality and mission in the marketplace. All things considered, which approach works better for a small crossover?
See a side-by-side comparison of the Escape & MKC »
What the Escape Gets Right
The Escape can handle five passengers and up to 34 cubic feet of cargo at the same time. With the rear seat folded, cargo space expands to 68 cubic feet. The cargo floor height is adjustable to make loading easier. Small storage places are available throughout the interior.
The base engine is a 2.5-liter four-cylinder with 168 horsepower. You can upgrade one of two turbocharged four-cylinder engines: a 1.5-liter that produces 179 horsepower, or a 2.0-liter good for 245 hp. Both engines feature automatic stop-start technology for enhanced efficiency, and can are available alongside all-wheel drive.
The Escape offers new technology options for 2017, including adaptive cruise control, lane keeping assist, and Ford's Sync3 infotainment interface.
What the MKC Gets Right
The MKC comes standard with the Escape's optional 2.0-liter engine, so all models deliver brisk acceleration. For even swifter performance, Lincoln offers a turbocharged 2.3-liter four-cylinder that produces 285 hp. All-wheel drive is optional with the 2.0-liter and standard on models equipped with the 2.3-liter.
Adaptive suspension dampers are exclusive to the MKC and sharpen handling without interfering with ride quality. The upgraded suspension is available on front-drive models and standard with all-wheel drive.
Active noise cancellation helps hush the interior, which isn't quite as spacious as the Escape's. The MKC's more daring exterior design reduces rear passenger room as well as cargo space, which maxes out at 53.1 cubic feet.
Appropriate to a luxury-branded vehicle, the MKC comes standard with feature like a power liftgate, heated front seats, and a nine-speaker sound system with a subwoofer.
What Matters More?
The Escape offers more room for people and things, and does so at a lower price. That's all many shoppers will need to know before taking one home. For those who value performance and design over practicality, the MKC will be the more compelling choice.
Our Verdict: Ford Escape
The Escape appeals to the heart of the family vehicle market.
Take a closer look at the Ford Escape »