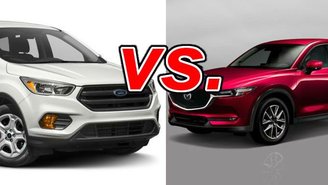 While the small crossover segment continues to grow, two of the early adopters, Ford and Mazda, continue offering great options in the Escape and CX-5, respectively. Though both have gone through big changes throughout their lives, the Escape and CX-5 have settled in nice spots, offering buyers a great balance of cargo and people hauling, and comfort.
Which of these two long-running compact crossovers is superior? Continue reading to find out.
See a side-by-side comparison of the Escape & CX-5 »
What the CX-5 Gets Right
Boasting Mazda's KODO design, the Mazda CX-5 has a look that few in its segment can replicate. What's more, Mazda manages to pull this styling off without coming off as overdone and polarizing. This styling continues inside, where the CX-5 retains Mazda's sportier attitude tuned for younger buyers. Also, the interior boasts 39.6 inches of rear leg room, besting the Escape by 2.8 inches.
The CX-5 not only looks sporty, but its performance matches its looks. Its 184-horsepower base engine outpowers the Escape's standard engine by 16 hp while getting an extra 4 miles per gallon city, 2 highway, and 4 combined when compared to the Escape's base powerplant. What's more, the CX-5's chassis is better tuned for handling the twisty stuff.
What the Escape Gets Right
The Escape's base price of $24,935 (destination fee included) is $250 cheaper than the base CX-5. Sure this doesn't leave much room for options, but it can make a small impact on your monthly payment. The Escape also boasts a spacy cargo area that measures 34.3 cubic feet with the rear seats up and 67.8 cubes with the seats lowered – this is 3.4 and 8.2 cubic feet greater than the CX-5, respectively.
The Ford Escape has a wide range of standard features and a Titanium trim that is chock-full with upscale features. Also, the Escape's Sync infotainment system is one of the easiest in the segment to operate and is a significant upgrade to the CX-5's system. Finally, the Escape has an engine flavor for virtually every buyer. Yes, its base engine is a little underpowered, but it also has a turbocharged 1.5-liter that delivers punchy torque and up to 26 mpg combined, and a 245-hp 2.0-liter for the heavier-footed individual.
Want Zippy Style? Go Mazda
The Mazda CX-5, like all models in this automaker's lineup, is perfect for the younger crowd looking for something more stylish and zippy. It's a fun-to-drive alternative that lacks some of the Escape's sensibilities.
Verdict: Ford Escape
It is a close race, but the Ford Escape narrowly beats the CX-5. It does so based on its significantly greater cargo-hauling abilities, an array of features, and the three powertrain options that fit varying driving styles.
Take a closer look at the Ford Escape»