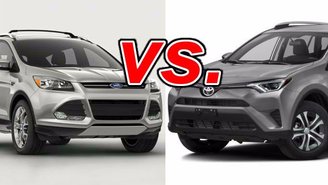 The Toyota RAV4 and the Ford Escape are longtime staples of the compact crossover class. Each has succeeded by delivering exactly what the majority of buyers want in a family vehicle at a reasonable price.
In this matchup of overachievers, which pulls slightly ahead?
See a side-by-side comparison of the Escape & Toyota RAV4 »
What the RAV4 Gets Right
The RAV4 shines on the inside with legitimate room for five passengers and 38.4 cubic feet of cargo. With the rear seat folded, you're looking at 73.3 cubic feet of virtually flat load space, a figure that's unsurpassed in this class.
All models are powered by a 2.5-liter four-cylinder with 176 horsepower, matched to a six-speed automatic transmission. As expected, the RAV4 is a front-driver with all-wheel drive optional. You can expect about 26 mpg in combined city and highway driving, or 25 mpg with all-wheel drive. A 33-mpg hybrid version is also available.
What the Escape Gets Right
The current Escape started gaining praise from the moment it debuted. Along with expressive styling inside and out, the Escape boasts responsive handling and overall nimbleness that make it a very satisfying daily driver. High-quality materials are deployed throughout the cabin, and the sweeping dashboard is exceptionally attractive and functional.
Fuel economy is quite good with any of the three available four-cylinder engines. The top choice—a 240-horsepower
2-liter turbo—delivers a potent combo of power and efficiency
What Matters to You?
The RAV4's cargo-carrying ability and reliability record are undisputed. It doesn't just excel in these areas, it dominates the class. The Escape wins in the more subjective categories of performance, refinement, and style.
Verdict: Ford Escape
There's a lot to like about both of these crossovers, but the Escape manages to impress us more with its overall design and character.
Take a closer look at the Ford Escape >>