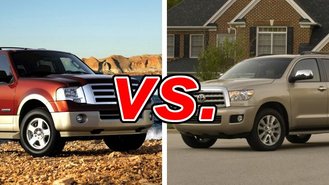 As car-based crossovers become the norm in the SUV segment, it's becoming harder to find top-notch full-size SUVs. However, the Toyota Sequoia and Ford Expedition are two of the best in the business at giving customers the capability, space and power they need.
See a side-by-side comparison of the Expedition & Sequoia »
Both models have enjoyed success, but the Expedition has a leg up on the Toyota as a staple in Ford's lineup since 1997 -- the Sequoia has only been around since 2001. So, which of these relative dinosaurs remains king of the hill?

What the Expedition Gets Right

The Expedition comes standard with a third row of seats that actually offer up plenty of room for its occupants. Additionally, the two rear rows of seats fold down with relative ease to expand its cargo area from 18.6 cubic feet to 108.3 cubic feet. The EL model adds even more cargo room with 42.6 cubic feet with all of the seats in place, and 130.8 cubic feet with the seats folded. Both versions benefit from interior upgrades and freshened exterior styling this year.
The old V8 has been replaced by a 3.5-liter turbocharged V6 good for 365 horsepower. As expected, the switch to V6 power makes the Expedition more efficient than before, but it's also quicker and can still haul up to 9,200 pounds.

What the Sequoia Gets Right

The Toyota Sequoia rolls in with seating for up to eight, depending on the configuration for which a buyer opts. With all seats in place, the Sequoia can haul up to 18.9 cubic feet of cargo. With the third row folded, this capacity jumps to 66.6 cubic feet, and then to 121 cubic feet with all seats folded.

Under the hood, the Sequoia features a 5.7-liter V8 engine with 381 horsepower and 401 pound-feet of torque that connects to a six-speed automatic transmission. This engine allows the Sequoia to hit 60 mph in an incredible 6.7 seconds.

Why Buy a Sequoia?

Though the Sequoia gets out-SUV'd by the Expedition, it still has a place in the market. The powerful Sequoia is geared more toward the large family looking for a cavernous interior with an excellent ride. Additionally, it provides excellent performance for its size with a sub-7-second 0-to-60 mph time. It is also capable of towing -- but comes up far short of its Ford rival.

Verdict: Ford Expedition

Sure, the Expedition gives up some power to the Sequoia, but it's not always about power in the SUV game. Construction and strength have a lot to do with it, and this is evident by the Expedition's massive towing advantage. Add in the efficiency of the new V6, and the Expedition seals its victory.
Take a closer look at the Ford Expedition »