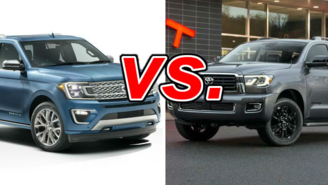 Family SUVs are utilitarians. They do the grunt work – hauling people and cargo, commuting, adventuring, road-trip duty, and even some towing. The Ford Expedition and Toyota Sequoia have both enjoyed decades of success perfecting this formula. On the surface, the two look similar. They're close in size, the engines produce nearly equal horsepower, and even the starting prices are only a few hundred dollars apart. But given that both those prices are over $50,000, it's worth figuring out which is worth your hard-earned cash.
See a side-by-side comparison of the Expedition & Sequoia »
What the Expedition Gets Right
Fresh off of a 2018 redesign, the Expedition is blessed with a modern and accommodating look inside and out. The cabin in particular is a dream, with spacious and comfortable seating married to absurd amounts of cargo capacity. Most Expeditions are available with extra touches like a hands-free liftgate and a helpful cargo management system. Interior quality is universally impressive.
Equally impressive is the Expedition's on-road personality. Full-size SUVs are never going to be racy, but this one does a good job masking the awkwardness that usually plagues large cars in the corners. A turbocharged V6 engine (paired with a smooth 10-speed automatic transmission) pumps out up to 480 pound-feet of torque. That's enough to handily move the Expedition's considerable bulk, and it will even tow a class-leading 9,300 pounds. A Chevrolet Tahoe will tow 8,600 pounds and a Dodge Durango will do 8,700, but the Sequoia can only manage 7,400.
Thanks to the turbos, all that performance doesn't come at the cost of fuel economy. A rear-wheel-drive Expedition gets an EPA-estimated 17 miles per gallon city, 24 mpg highway, and 20 combined, while four-wheel drive only knocks that down to 17/22/19 mpg (city/highway/combined). That's far superior to the Sequoia's atrocious ratings of 13/17/14 mpg with four-wheel drive.
What the Sequoia Gets Right
Toyota stakes its name on reliability and value, and the Sequoia is no exception. Toyota lures buyers with the features it includes as standard. Chief among these is four-wheel drive. The Sequoia historically comes in both rear- and four-wheel-drive variants, but at time of writing, 4WD is the only powertrain in Toyota's configurator. Four-wheel traction comes with the starting price of $53,220 with destination, which is more than the Ford can say – four-wheel drive is $3,000 on the Expedition, which brings its starting price to $56,535.
No less important is the inclusion of active safety technology. Toyota includes not only blind-spot monitoring and a rearview camera, but also automatic emergency braking, forward collision warning, and automatic high beams. On the Ford, features like automatic emergency braking and blind-spot monitoring are expensive options.
While it can't compete on fuel economy or torque, the Sequoia's V8 has an old-fashioned allure. It's powerful enough to hustle the big car down the highway, and some buyers may appreciate the old-school soundtrack.
Details Matter
Despite their broad similarities, these two cars have different personas up close. This generation of Toyota Sequoia has been around since 2008, and it shows. The interior is full of hard plastics, the styling is dated, and both the handling and the fuel economy are straight out of the 2000s. While it may compete on paper, the Sequoia struggles to keep up in real life.
Our Verdict: Ford Expedition
The Ford Expedition is the clear winner. It's the more expensive of the two vehicles, especially after adding four-wheel drive and the requisite safety tech. But strong (and efficient) performance, a refined ride, and a plush cabin put the Expedition near the top of its class. Those in need of a do-it-all SUV should start here.
Take a closer look at the Ford Expedition »