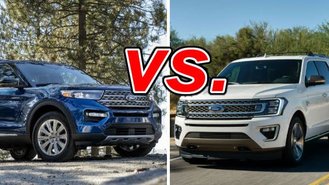 Buyers in the market for a spacious three-row hauler will find two top contenders in Ford showrooms. The Ford Explorer is all-new this year, boasting more interior room and heartier performance. The Ford Expedition is even larger, with truck-like capability for those who need it.
Both have their strengths, but which Ford does more to earn your dollars?
See a side-by-side comparison of the Explorer & Expedition »
What the Explorer Gets Right
The Ford Explorer might not look dramatically different, but underneath is a new rear-wheel-drive platform that yields better on-road handling and greater stability when loaded. In everyday driving, the Explorer feels positively nimble compared to the longer and heavier Expedition, which can be a handful in rush hour traffic and parking lots.
The Explorer's lower ride height makes it easier to get into and load. Climbing aboard the Expedition is a two-step process that requires a free hand for the assist handle.
Explorer buyers have the choice of four engines: the standard four-cylinder turbocharged motor, two twin-turbo V6s, and a V6 hybrid. According to EPA estimates, the Explorer gets 24 miles per gallon combined with the base engine and 28 mpg in hybrid form. The Expedition offers two engines and does no better than 19 mpg combined.
What the Expedition Gets Right
The Ford Expedition belongs to the traditional SUV class, meaning it's built on a truck platform for maximum capability and interior space. And it certainly delivers in those categories.
There's room for up to eight passengers, which is one more than the Explorer. The Expedition boasts 20.9 cubic feet of cargo. With the third row folded, capacity balloons to 63.6 cubic feet. With just the front seats occupied, the Expedition can swallow up to 104.6 cubic feet.
The Explorer trails in all three measures, topping out at a comparatively modest 87.8 cubic feet. For buyers who want all the space they can get, the extended-length Expedition MAX version can hold 130 cubic feet, more than any other SUV.
The Expedition's standard twin-turbo V6 lays down 375 horsepower and 470 pound-feet of torque. The line-topping Platinum model carries a high-output version with 400 hp and 480 lb-ft of torque.
The Expedition ranks at the top of its class in towing with a capacity of 9,200 pounds. The Explorer's engines can't match that level of grunt – the four-cylinder turbo used in most models makes 300 hp and 310 lb-ft. No matter how it's equipped, the Explorer's towing ability stops at 5,600 pounds.
With its tall ground clearance and available four-wheel drive with low-range gearing, the Expedition is perfectly fit for off-road adventure. While the Explorer can handle campsites and dusty trails just fine, it's not rugged enough for the wilderness.
How Big Should You Go?
The Ford Explorer can do everything most families will ask of it, including fit into parking spaces and conserve fuel. Such practical matters aren't what the Ford Expedition is about. It's designed for maximum pull and capacity, which will sound great to some and like overkill to others.
Our Verdict: Ford Explorer
The Ford Expedition is a specialty vehicle that performs exactly as promised. The Ford Explorer takes a more balanced approach, incorporating what buyers what most in a family-size vehicle. This makes it easy to appreciate every time you hit the road.
Take a closer look at the Ford Explorer »