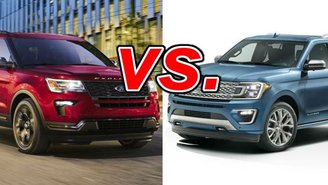 The Ford Explorer exemplifies why Americans have taken to crossovers in record numbers. With its spacious interior, reasonable efficiency, and all-weather prowess, the Explorer delivers what families need most in a vehicle. For those who want to max out on room and capability, Ford also offers the Expedition, a truck-based SUV in the traditional mold. It can tow a camper and meander off road without breaking a sweat – at the risk of alienating some buyers with its sheer size. Which impresses us more, the Explorer's versatility or the Expedition's muscle?
See a side-by-side comparison of the Explorer & Expedition »
What the Explorer Gets Right
It's easy for seven passengers to get comfortable in the Explorer's sophisticated interior. There's plenty of technology on hand, and the mood is decidedly upscale. When the rear seats aren't needed, the Explorer can swallow 80.7 cubic feet of cargo, enough to put in firmly in the full-size crossover class. Buyers can splurge on everything from an automated parking system to genuine wood interior trim.
The standard 290-horsepower, 3.5-liter V6 engine delivers an EPA-rated 20 miles per gallon in combined city and highway driving. The optional 2.3-liter four-cylinder turbocharged engine musters up 280 hp while achieving 22 mpg combined. Ratings are one mpg lower with the optional all-wheel-drive system, which comes with a terrain selector for optimal performance on difference surfaces.
The most interesting Explorer model may be the Sport, which gets a turbocharged 3.5-liter V6 with 365 hp, standard all-wheel drive, and a firmer suspension.
What the Expedition Gets Right
The Expedition received a complete redo for 2018, so it's now on par with the Explorer in terms of technology, design language, and aesthetics. Instead of the expected V8, the Expedition packs a twin-turbo 3.5-liter V6 with 375 hp and 470 pound-feet of torque (the line-topping Platinum model gets a 400-hp version).
The Expedition is rated to tow up to 9,200 pounds, impressive grunt even for a large SUV. The 10-speed automatic transmission helps produce EPA ratings of 20 mpg combined with rear-wheel drive, or 19 mpg with four-wheel drive. The system comes standard with low-range gearing for true off-road capability.
There's room inside for eight passengers and 108.3 cubic feet of cargo space with the back rows folded. The extended-length Max model can hold 130 cubic feet, more than any other SUV on the market. The third row folds into the floor for easy loading.
Which Size Fits Better?
The Explorer performs without a hitch in the context of family travel. It's perfectly suited to carpools, long trips, and occasional nights on the town. The Expedition can fill that role too, but not everyone needs its grandiose talents or dimensions. That doesn't make it an inferior choice, just a more specialized one.
Our Verdict: Ford Explorer
The Ford Expedition is easy to admire and even love, but the Ford Explorer is a better fit for real family life.
Take a closer look at the Ford Explorer »