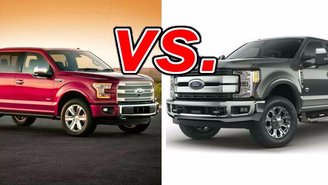 The current Ford F-150 debuted two years ago with an all-aluminum body, updated technology, and enhanced pulling power. This year the F-250 Super Duty receives the same treatment, bringing it up to date with its regular-duty sibling. Now that both trucks are at the top of their game, the difference between them comes down to brute capability.
Will the F-150 give you enough grunt, or do you need the industrial strength of the F-250 Super Duty? Let's take a look at what each rig can do.
See a side-by-side comparison of the F-150 & F-250 »
What the F-150 Gets Right
The F-150 gives you a choice of four engines. The roster starts with a 3.5-liter V6 that produces 283 horsepower and 255 pound-feet of torque. Models so equipped can tow up to 7,600 pounds. Next up is a 2.7-liter twin-turbo V6, which delivers 325 horsepower and 375 pound-feet of torque. Towing capacity rises to 8,500 pounds with the F-Series' smallest turbo engine.
The F-150 wouldn't be a full-size pickup without a V8 on hand as well. The available 5-liter gives you 385 horsepower and a bit more torque, enough to pull up to 11,100 pounds. The range-topping 3.5-liter twin-turbo V6 yields 365 horsepower and 420 pound-feet of torque. With this workhorse under the hood, you're good to tow up to 12,200 pounds. The F-150 has a payload capacity of 1,641 to 2,320 pounds depending on the bed length.
What the F-250 Super Duty Gets Right
Built for heavy-duty work, the F-250 comes standard with a 6.2-liter V8 that puts out 385 horsepower and 430 pound-feet. Even with this "base" engine, the F-250 is rated to tow up to 15,700 pounds.
Your other choice is Ford's Power Stroke 6.7-liter turbodiesel V8, which generates 440 horsepower and an eye-popping 925 pound-feet of torque. With output like that, it's no surprise the diesel-powered F-250 can tow up to 18,600 pounds.
The Super Duty can haul loads ranging from 3,305 to 4,267 pounds depending on the configuration.
How Much Truck Do You Need?
When you look at everything the F-150 can do, it hardly seems fair to call it a regular-duty truck, especially with the twin-turbo 3.5-liter V6 under its hood. You also get admirable efficiency for this class with any V6 engine.
The F-250 Super Duty costs more to buy and operate, but that's to be expected of a vehicle that can tackle the really tough jobs. Sometimes there's just no substitute for a heavy-duty hauler like this.
Our Verdict: Ford F-150
The F-150 is tough enough to handle whatever most buyers will throw at it.
Take a closer look at the Ford F-150 »