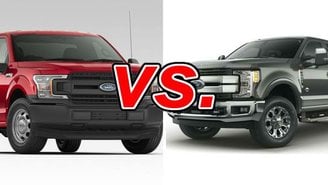 Ford's F-Series lineup has long been one of the broadest-reaching pickup lines, offering a pickup for every occasion. Between the F-150 and F-250, which is the better buy for you? The answer lies in what you plan to do with it.
Continue reading to find out which we think is the safest bet.
See a side-by-side comparison of the F-150 & F-250 »
What the F-150 Gets Right
The most obvious advantages of buying the F-150 when compared to the F-250 are size and pricing. Buyers not looking for a heavy-duty truck will find the F-150's smaller footprint and smoother ride favorable. These buyers will also prefer the F-150's $29,100 base price, which is $5,180 less than the F-250 (destination fees included).
The F-150's engine options are also feathers in its cap, as it has a base 3.3-liter V6, a twin-turbocharged 2.7-liter V6, a 3.5-liter twin-turbocharged V6, a 5.0-liter V8, and a new-for-2018 3.0-liter turbodiesel V6. The F-250, on the other hand, has only two engines, vastly limiting options. What's more, with a towing capacity of 12,000 pounds, the F-150 is plenty capable for most drivers.
Thanks to its smaller, lighter body, the F-150 is also the fuel-economy champ at up to 20 miles per gallon city, 26 highway, and 22 combined. What's more, once the diesel version hits showrooms, Ford promises up to 30 mpg highway. The F-250, on the other hand, is untested in this realm, as EPA regulations do not require heavy-duty trucks to go through fuel economy testing.
What the F-250 Gets Right
Towing… towing, towing, towing. This is exactly what makes the F-250 great. It can tug up to 13,300 pounds when properly equipped, and its available seven cameras making backing even the largest trailer into a tight space simple.
The F-250's massive towing capacity is made possible in part by its mighty powertrain options. The base engine is a 6.2-liter V8 with 385 hp and 430 lb-ft of torque. Optionally, buyers can go for a 6.7-liter Powerstroke V8 diesel with 440 hp and a planet-hauling 925 lb-ft of torque. Ford's foresight is evident too, as the diesel engine's torque is electronically limited from a stop to avoid grenading the transmission over time.
Finally, in its top trim levels, this rugged pickup turns into a luxury cruiser. While these trims aren't great for true work trucks, they do make long-haul trailering a much more pleasant experience.
Always Mashing the "Tow/Haul" Button? Go F-250
Both the F-150 and F-250 are great pickups, but the F-250 is more of a niche model with its face-ripping torque and fat stance. Its price tag is also a touch eye-watering. So stick to this pickup only if you're hauling big trailers on the regular.
Verdict: Ford F-150
The F-150 has been the best-selling vehicle in the US for good reason. It's an amazing pickup that has plenty to offer virtually every buyer. If you can live without the F-250's 925 lb-ft of torque, then the F-150 is the way to go.
Take a closer look at the Ford F-150 »