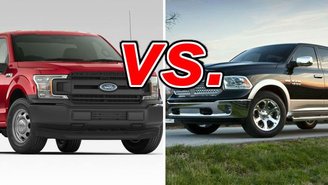 The Ford F-150 aims to retain its sales crown for 2018 with updated styling, features, and engine choices. But those sales won't come easy with competition like the RAM 1500, a brawny hauler with refined road manners and endless trim options. Does the Ford deserve to be so popular, or is the RAM actually more capable?
See a side-by-side comparison of the F-150 & 1500 »
What the Ford F-150 Gets Right
The F-150 wears a completely new front end, a more sculpted tailgate, and revised taillights. However, the most important changes are under the hood. The new base engine is a 3.3-liter V6 with 290 horsepower and 265 pound-feet of torque, capable of towing up to 7,700 pounds. According to the EPA, the 3.3-liter delivers 22 miles per gallon in combined city and highway driving, or 20 mpg with four-wheel drive.
Towing capacity increases to 9,000 pounds with optional 2.7-liter V6 turbocharged engine, which produces 325 hp and 400 lb-fit of torque. EPA ratings for the 2.7-liter are 22 mpg combined with rear-drive, and 21 mpg with four-wheel drive. The available 5.0-liter V8 also puts out 400 lb-ft of torque, but horsepower jumps to 395. With the V8, efficiency drops to 19 mpg combined, or 18 mpg with four-wheel drive, but towing capability rises to 11,000 pounds.
The top engine is a 3.5-liter turbocharged V6 good for 375 hp and 470 lb-ft of torque, which enables the F-150 to tow up to 13,200 pounds. (The line-topping Raptor gets a high-output version with 450 hp and 510 lb-ft or torque.) According to EPA estimates, the 3.5-liter delivers 21 mpg combined, or 19 mpg with four-wheel drive.
The three optional engines now come with a 10-speed automatic transmission, and all F-150 engines feature auto stop-start technology for enhanced efficiency.
What the RAM 1500 Gets Right
The current RAM 1500 has always impressed us with its comfortable ride and car-like handling. Buyers also get a refined interior and access to a huge array of design themes.
As in previous years, the engine roster starts with a 3.6-liter V6 with 305 hp and 296 lb-ft of torque. The V6 can pull up to 7,610 pounds and is EPA-rated at 20 mpg combined with rear-drive, or 19 mpg with four-wheel drive. The optional 5.7-liter V8 provides a boost to 395 hp and 410 lb-ft of torque. Towing ability maxes out at 10,640 pounds with the V8, which is EPA-rated at 17 mpg combined with either rear- or four-wheel drive.
The choice for efficiency is RAM's 3.0-liter turbodiesel V6, which delivers 240 hp and 420 lb-ft of torque. Turbodiesel models can tow up to 9,210 pounds, and yet are EPA-rated at 24 mpg combined with rear-drive, and 23 mpg with four-wheel drive.
Most RAM 1500s carry an eight-speed automatic transmission. A six-speed automatic is used on base V8 models only. Buyers who need four-wheel drive can opt for a conventional part-time system – or one with automatic four-wheel-drive mode.
Are They Equals?
Both pickups are highly configurable, so it's difficult to pin down which does what better. With the right equipment and trim, either one will meet the needs of the same driver.
The freshened F-150 does seem more contemporary – in terms of both features and design – and has a slight edge in towing capacity. The RAM continues to earn our respect for its smooth ride and multiple stylish personalities.
Our Verdict: Ford F-150
All things considered, the Ford F-150 emerges as the product of newer technology.
Take a closer look at the Ford F-150 »