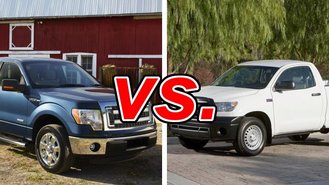 Toyota set out to conquer the full-size truck market as it did with so many car segments over the last few decades with the Tundra. The most recent Tundra, introduced for 2014, is really a facelifted version of an eight-year-old design, though. Can it still compete with the volume leader, the Ford F-150?
See a side-by-side comparison of the F150 & Tundra »
What the Ford F-150 Does Right
You don't mess with success, but that's exactly what's happened with the Ford F-150. For its 13th generation, Ford shaved hundreds of pounds off of the old truck by creating an aluminum body and reducing the size of engines, thanks to turbocharging. While you can still get a traditional 3.7-liter V6 or 5-liter V8, most buyers will appreciate the 2.7-liter and 3.5 Ecoboost V6 engines for their broad torque curves and (relative) fuel efficiency.
And then there are the features you can get on the latest F-150, such as a full suite of driver assists, the extensive MyFord Touch infotainment system and clever touches like the power-assisted tailgate and pop-out step ladder for getting into the bed.
What the Toyota Tundra Does Right
Unlike Ford, Toyota doesn't give truck buyers quite the powertrain choice they're used to. That's not such a bad thing, since the standard V8s are refined powertrains and the 5.7-liter version is Lexus-quality in terms of refinement. Off-road fans will like the TRD Pro edition with beefier shocks and tires.
And the Tundra offers lots of space inside, particularly in the lavish CrewMax models. The list of options may not be as extensive as the F-150's, but the prices don't escalate quite as much, either.
Is the F-150 the obvious choice?
One thing Toyota still has going for it in the Tundra is dependability, as the most recent version is using well-proven mechanicals that date back a while. Ford, however, is testing lots of new technologies on the new F-150. But then it has the widest range of body and cab and engine configurations to suit every need.
Our Verdict: Ford F-150
Smooth engine aside, the Tundra isn't quite the Lexus of pickup trucks and feels dated compared to the modern Ford. The F-150 re-energizes the segment where it matters and basically fixes what was wrong with the old model. Don't expect it to fall from the top of the sales charts anytime soon.
Take a closer look at the Ford F-150 »