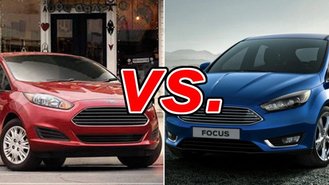 When you compare Ford's current small-car lineup to that of just a decade ago, the transformation is remarkable. Not only is the Focus a world-class compact, but it's joined by an equally accomplished subcompact: the Fiesta. Although it was once thought that American small cars could not compete with imports, both the Focus and Fiesta have helped put that notion to bed.
See a side-by-side comparison of the Fiesta & Focus >>
Going Head to Head
Except in outright dimensions, the Fiesta and Focus are remarkably similar cars. Each can each be had as a four-door sedan or five-door hatchback. Trims echo each other as well, except when it comes to the fuel-efficient models. The Focus, for instance, is available as a fully-electric automobile capable of recharging in just four hours. The Fiesta. meanwhile, already sips fuel at 33 mpg combined; but if you want to squeeze all you can out of your gas, Ford offers a "Super Fuel Economy" package complete with lighter wheels, aerodynamic body upgrades and unique tires.
The main difference is size, and this is where your decision might be made. The subcompact Fiesta is a smaller car than many Americans are used to, and might be too small for some tastes.
Our Verdict: Ford Focus
Although the Fiesta is much less expensive than the Focus, its tiny dimensions aren't as comfortable for the typical American buyers. And with rebates and a low CarsDirect price, a more substantial Focus can be purchased for a price that's not much more than a Fiesta's.
Take a closer look at the Ford Fiesta >>