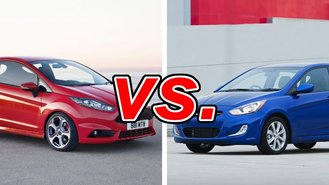 The Ford Fiesta is a relative newcomer to the subcompact class, bursting onto the scene in 2011 as an even cheaper alternative to the ever-popular Ford Focus. But how does the Fiesta compete against more established rivals like the Hyundai Accent?
See a side-by-side comparison of the Fiesta & Accent >>
What the Ford Fiesta Gets Right
The Fiesta is available as a hatchback or sedan, and offers buyers three trim levels. Like all subcompacts, the Fiesta gets good fuel mileage (29/39/33). Like other Fords, available features on the Fiesta go above and beyond what some of the competition has offer. A slick interior, keyless entry and ignition, the Ford Sync system, heated seats and -- much to our surprise -- leather upholstery are all available. Yet, the best aspect of the Fiesta is the driving experience. The 1.6-liter engine is lively and the Fiesta offers a sporty ride. We prefer the manual transmission to the dual-clutch automated transmission, which can have quirky behavior at low speeds.
What the Hyundai Accent Gets Right
Like the Fiesta, the Accent is available as a sedan or hatchback. We love 47.5 cubic feet of storage space with the seats folded flat. The direct-injected 1.6-liter four-cylinder engine is quicker than expected. It has good the safety ratings, and plenty of available options -- especially on the upscale GLS sedan. Fuel economy is great with 28 mpg city and 37 mpg highway. Head and legroom is surprisingly generous.
Does the Fiesta Compete with the Accent?
The Accent is an established model that has done well in the American market. It's nicely-equipped and offers a lot of storage space, a great engine and good fuel economy. However, we also like the sporty ride of the Fiesta, the impressive option list and its superior gas mileage. The Fiesta offers a nicer interior, though taller drivers will find it more cramped than the Accent.
Our Verdict: Ford Fiesta
While the Accent is a respectable choice, we preferred the superior interior design, options and driving experience available with the Ford Fiesta.
Take a closer look at the Ford Fiesta >>