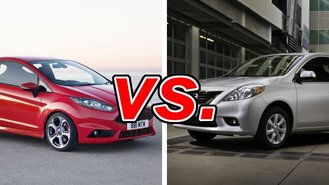 When it comes to subcompact cars, how tiny is too tiny? As automobiles tend to get smaller and smaller, some manufacturers put less emphasis on distinctive design and more on utilitarian functionality. But that cannot be said of the Ford Fiesta or the Nissan Versa.
See a side-by-side comparison of the Fiesta & Versa »
Ford has spent recent years creating a familial look for all of its models; so the Fiesta introduced to the U.S. in 2011 was -- unmistakably -- a Ford. And while the Nissan Versa may have quirky beginnings, it has gracefully evolved to include a sedan model with looks reminiscent of the midsize Altima.
What the Ford Fiesta Gets Right
The Fiesta is simply fun to look at -- its design makes it look like it's moving when it's standing still. The 1.6-liter power plant is perky, and with 40 mpg fuel efficiency the Fiesta is as easy on the budget as it is on the eyes. We recommend opting for the Titanium trim package, which brightens the interior with two-toned black and white leather-trimmed seats and a white-accented instrument panel.
What the Nissan Versa Gets Right
Nissan offers decades of small car heritage so it's no wonder that the Versa is a well-conceived, well-executed micro-sedan that offers the same amenities found in Nissan's larger models. It's small where you need and big where you want. For example, the Versa offers more rear leg room than the Lexus LS460, the BMW 5 Series, and the Mercedes Benz E-Class. That's enviable ingenuity.
The Versa's party piece is its price, though -- it's over two grand cheaper than the Fiesta.
Does Nissan Tradition Trump Ford's Global Outlook?
Nissan's reputation for building small reliable automobiles would seem to make the Versa an obvious choice when comparing subcompacts. However, Ford has more to gain by making bold moves -- and as a "world car" the Fiesta was designed to entice a mixed, global audience.
Our Verdict: Ford Fiesta
Why settle for the conservative style and driving dynamics of the Nissan sedan when Ford's Fiesta packs all that design and on-road entertainment into its subcompact package?
Take a closer look at the Ford Fiesta »