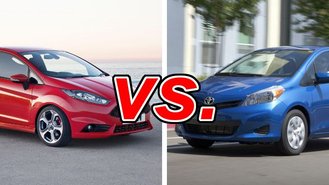 Like most trends, the things that people look for when buying a car are cyclical. In today's world of unstable economies, fluctuating gas prices and an increasing awareness of one's carbon footprint, the small "econobox" sedan and hatchback have been gaining popularity -- much as they did in the 1970s during the oil crisis.
See a side-by-side comparison of the Fiesta & Yaris »
Naturally, two of the biggest competitors in this segment come from two of the world's biggest companies: the Ford Fiesta and the Toyota Yaris. One of the hardest things to do is style an economy car with great looking lines that are sporty enough for one buyer and still cute enough for another. The question is, which of the two has gotten this right?
What the Ford Fiesta Gets Right
Available as either a sedan or the more utilitarian hatchback, the Fiesta has three model trims to choose from: the base model S, the SE and the top of the line Titanium.
No matter which you choose, all are powered by the same 120-horsepower 1.6-liter four-cylinder engine and your choice of a five-speed manual or 6-speed automatic transmission that sends power to the front wheels. When paired with the automatic and the SFE package, the Fiesta is capable of up to 40 miles per gallon highway. The handling is class-leading and the interior space is sufficient.
What the Toyota Yaris Gets Right
Entry prices for the Yaris are slightly higher than the Fiesta's. However, the Yaris comes with standard features such as touch-screen audio controls and a six-speaker sound system that are optional upgrades for the Fiesta. The Toyota is powered by a 106-horsepower 1.5-liter four-cylinder that is capable of up to 37 miles per gallon highway.
Who Best Balances the Stylistic Line?
The Yaris isn't an ugly car, but it is somewhat forgettable. The Fiesta has a way of sticking out in a crowd -- unless it's in a crowd of Fiestas.
Winner: Ford Fiesta
The Yaris is no match for the Fiesta's superb handling, fuel efficiency and superior styling. Economy cars are as much about fun as they are anything else, and Ford got this right.
Take a closer look at the Ford Fiesta »