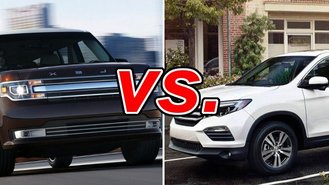 As the public looks for better fuel economy and improved drivability they often move to smaller crossover SUVs. But some buyers need more space than the popular compacts can offer, and that's where larger vehicles with three rows of seats serve a critical market.
See a side-by-side comparison of the Flex & Pilot »
The Ford Flex and Honda Pilot both belong an elite class of SUVs that prove smaller isn't necessarily better.
What the Ford Flex Gets Right
Flex owners love their distinctively stylish rides. With the highest retention rate of any vehicle in the Ford lineup, the Flex holds enduring appeal for those who want to stand out.
A nearly ideal balance between SUV, wagon and minivan, the Flex has squared-off lines that contain a surprising amount of useful passenger and cargo space. The upgraded 3.5-liter V6 provides 287 horsepower.
What the Honda Pilot Gets Right
Now in its second generation, the Honda Pilot was designed around the concept of an "intelligent adventure vehicle" with the practical needs of a family in mind. The eight-passenger Pilot provides bolder SUV styling, more clever and more accommodating interior packaging and advanced technologies for safety, fuel efficiency and convenience.
The 3.5-liter V6 produces 250 horsepower and is mated to a five-speed automatic transmission. A four-wheel drive model is also available.
Bringing Sexy to the Box Design
Although both these models have boxy designs, there is nothing boring about their styling. These are ruggedly handsome vehicles with refined driving manners, plenty of technology, good fuel economy and modern sophistication.
Our Verdict: Ford Flex
Although Ford has a winning formula with the Flex, it hasn't been a sales success. And that's too bad, because it's one of the best crossovers on the market.
Take a closer look at the Ford Flex »