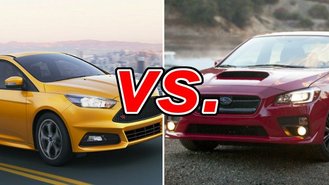 A relative newcomer to the hot hatchback market, the Ford Focus ST promises everything the public already likes about the regular Focus, plus a major injection of horsepower and suspension tuning.
See a side-by-side comparison of the Focus ST & Impreza WRX »
The Subaru WRX, meanwhile, has been laying patches of rubber for quite a few years now, and it gets a complete redesign for 2015. It's the consummate econo-screamer that young kids race in video games.
Which comes out on top in a real-world match-up?
Where the Focus ST Scores
The Focus ST, which got a light refresh in 2015, gets its own drivetrain not shared with lesser models: a turbocharged 2-liter four-cylinder with 252 horsepower and a close-ratio six-speed manual. You can't get an automatic transmission, which should tell you something about the ST's mission. Acceleration is potent, with zero to 60 mph occurring in 6.2 seconds.
Special tuning has been applied to the car's electric-assist steering and stability system, resulting in quick handling and overall agility that exceeds what you get in the standard Focus, no slouch to begin with. And yet the ST still pleases as a daily driver, thanks to a comfortable ride, impressive interior refinement, and available high-tech conveniences like the new Sync 3 system.
Where the WRX Scores
The WRX, which drops the Impreza from its name with its 2015 redesign, starts with standard all-wheel drive and performance-spec suspension components for stellar high-speed handling. Power comes from a turbocharged 2-liter four-cylinder mated to a six-speed manual transmission as standard or an optional CVT. With 268 horsepower at its disposal, the WRX scoots from zero to 60 mph in 5.4 seconds, the fastest time in this price class, with the manual or 5.9 seconds with the CVT.
For those with a serious power fetish, Subaru offers the STI version of the WRX with 305 horsepower and a six-speed manual. The STI achieves zero to 60 mph in just five seconds, putting it close to supercar territory.
The WRX Checks Most Boxes
A redesigned WRX offers a lot of refinement to go along with its potent powertrains, but its lack of a hatchback option leaves it far less useful than the ST. Plus, its higher price tag puts it out of reach for some buyers.
Our Verdict: Ford Focus ST
The Ford delivers hearty performance without demanding any sacrifices.
Take a closer look at the Ford Focus ST »