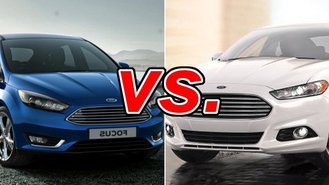 Ford has enjoyed plenty of success in recents years with its compact Focus and larger Fusion sedan. Both models are known their sharp styling, snappy performance, and refined interiors. The difference, of course, is a matter of price and passenger room. So which one does more to earn your dollars?
See a side-by-side comparison of the Focus and Fusion »
Where the Focus Scores
A quick look around the Focus reveals that it's a cut above the average economy car. The styling manages to be sharp and expressive without offending conservative buyers. It's obvious that interior refinement was a high priority during development. Top-quality materials abound, and the dashboard flows beautifully across the driver and front passenger.
The Ford gets going in a hurry courtesy of its 160-horsepower 2-liter engine. It's potent for this class and still delivers up to 40 mpg on the highway. Crisp handling and a well-balanced suspension contribute to an overall feeling of satisfaction in daily driving.
Where the Fusion Scores
The Fusion remains one of the best-looking family cars in existence. The wide horizontal grille and dramatic roofline will remind you of cars costing twice as much. The impressive design continues inside, where you'll discover plenty of high-quality materials and technology features.
The Fusion comes standard with a 175-horsepower four-cylinder engine. For greater power and efficiency, you can upgrade to one of two available turbocharged engines with up to 231 horsepower.
The Best of Both
The Fusion is a multitalented player that does everything a family sedan should do—and looks great doing it. For its part, the Focus delivers performance and refinement that defy its economy-car price.
Our Verdict: Ford Focus

The Fusion is a great option for any family, and we expect its sales streak to continue. The Focus might be smaller, but it's otherwise just as strong as the Fusion and costs thousands less. If we were laying down our own money, we'd choose the Focus.
Take a closer look at the Ford Focus »