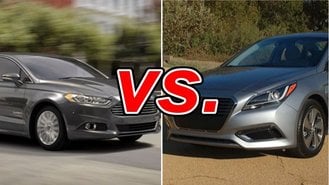 Typical of Hyundai's current product range, the Sonata Hybrid is a stylish and efficient machine that comes incredibly well equipped for its price. It looks striking and has good fuel economy, but can it topple the leader in the hybrid family sedan segment: the Ford Fusion Hybrid?
See the side-by-side comparison of the Fusion Hybrid & Sonata Hybrid »
Why We Like the Ford Fusion Hybrid
The Fusion Hybrid poses a tough challenge. It's even better looking than the Sonata, with more comprehensive in-car technology such as active park assist and blind-spot monitoring.
Its powertrain is suitably refined and is rated at a combined 42 mpg by the EPA and can travel up to 85 mph on just its electric motor for short spurts. What's more, the Fusion sacrifices very little in comparison to the gas-only variants, and that makes the leap to a more efficient model more inviting.
Why We Like the Hyundai Sonata Hybrid
For 2016, the Hyundai Sonata Hybrid receives a full redesign that aligns it with the rest of the Sonata lineup. This gives it a more elegant and mature appearance that will help it compete better against the likes of the Fusion Hybrid.
With this redesign comes a new powertrain that edges out the Fusion Hybrid with its 193 horsepower. This gas-electric powertrain also teams up to deliver up to 44 mpg highway. Like the Fusion, the Sonata can travel a short distance on electricity alone, but only up to 75 mph.
Can the Sonata Out-Hybrid the Fusion?
With its new design and powertrain, the Sonata is finally in a position where it can do battle with the Fusion Hybrid. Its highway fuel economy is superior, plus it has more power, a mature appearance, and a competitive price.
Our Verdict: Hyundai Sonata Hybrid
Hyundai definitely made up for the poorly thought out Sonata Hybrid of yesteryear with this redesign. In fact, it improves so much in 2016, that we rate it higher than the Fusion Hybrid.
Take a closer look at the Ford Fusion Hybrid »