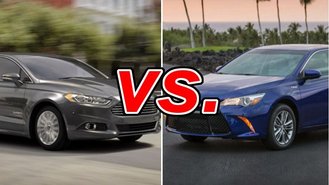 With the Prius range, Toyota established itself as America's dominant hybrid force. Its Camry, meanwhile, has long been the country's bestselling car, and comes in a popular hybrid variant.
See a side-by-side comparison of the Fusion Hybrid & Camry Hybrid »
Ford, on the other hand, builds the impressive new Fusion sedan -- and it's available as a hybrid.
But does the Ford stand a chance against powerhouse Toyota in this niche segment?
What the Ford Fusion Hybrid Gets Right
The Fusion Hybrid is a great-looking machine, mostly because it share's the conventional Fusion's sportier shape and expensive detailing. Only a few badges and unique wheels differentiate the gas and hybrid variants.
The Fusion Hybrid is not quite as powerful as the Camry Hybrid, but its 42 mpg combined and 85 mph top speed in electric-only mode both top the Camry. Inside, its spacious cabin is packed with the same technology you can get on a normal Fusion. And the trunk is reasonably roomy, too.
What the Toyota Camry Hybrid Gets Right
The Camry Hybrid shares many positive attributes with non-hybrid Camrys: an isolating cabin, comfortable ride and roomy rear seat. Fuel economy is good, but at 41 mpg combined in EPA testing it falls short of the Fusion's 42. The engine is a good bit stronger at 200 horsepower, though.
The Camry also packs a roomier trunk, and its cabin is just about the same size as the Fusion's.
Does Ford Beat Toyota at its Own Game?
The Camry has staid styling, which wouldn't be a problem among hybrids if it weren't for the Fusion. Its in-car technology also falls short of the Ford's -- navigation's graphics aren't as good and gizmos like active park assist are unavailable. Finally, the Camry's interior materials just aren't as inviting as the Ford's.
Our Verdict: Ford Fusion Hybrid
As competent as the Camry Hybrid is, it faces the same problem as the standard Camry. There are family sedans that do a lot more than just offer a comfortable and quiet ride, and many do it with better interiors and more interesting styling. The Fusion offers a much more complete package, and makes for a better hybrid as well.
Take a closer look at the Ford Fusion Hybrid »