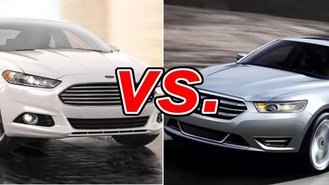 It's no secret that the Fusion ranks in the top tier of midsize cars. In fact, Ford has occasionally had trouble keeping up with demand for the stylish family sedan. The Taurus, meanwhile, occupies a less glamorous position in the full-size market, where it isn't the strongest contender.
So how does Ford's competent full-size sedan compare with its dazzling midsize sedan?
See a side-by-side comparison of the Fusion & Taurus »
What the Fusion Does Right
The Fusion sports stunning bodywork, from a grille reminiscent of Aston Martin to a fastback roofline that recalls the Audi A7. The impressive design continues inside, where you'll discover plenty of high-quality materials and technology features.
The Fusion comes standard with a 175-horsepower four-cylinder engine. For greater power and efficiency, you can upgrade to one of two available turbocharged engines with up to 231 horsepower.
What the Taurus Does Right
As you might expect in a sedan of its size, the Taurus offers a smooth, quiet ride and exceptional comfort for five passengers. At more than 20 cubic feet, the trunk is largest of any sedan on the market. The Taurus is also loaded with infotainment and safety technology.
The standard turbocharged four-cylinder makes a hearty 240 horsepower. For there, you can upgraded to a 288-horsepower V6 or a turbocharged version of the same that lays down 365 horsepower.
Going Head to Head
Neither Ford sedan is necessarily better than the other. Rather, they appeal to different buyers. The Fusion offers good interior room, sporty looks, and efficient performance. The larger Taurus surpases it mainly in trunk space and power when equipped with either of the optional engine.
Our Verdict: Ford Taurus
Don't get us wrong, the Fusion is an exceptional car that deserves all the sales it gets. Even so, the Taurus carries heavy factory incentives and is almost always discounted by dealers. You can buy a Taurus for close to the price of a smaller, less powerful Fusion. Fair or not, that makes the Taurus a better deal.
Take a closer look at the Ford Fusion »