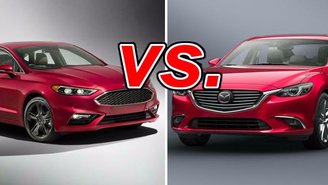 There's no comfort zone in the highly competitive family sedan market. Manufacturers have to stay on top of their game. Even though the Toyota Camry and Honda Accord have dominated sales for years, the Ford Fusion isn't too far behind, and could catch up at any moment.
The Mazda Mazda6 trails the Ford in sales by a significant margin, but should it? With its unique styling and fine handling, the Mazda might be just as good—or better—than its more popular rival.
See a side-by-side comparison of the Fusion & Mazda6 »
What We Love About the Mazda6
While "sexy" isn't the first word that comes to mind when thinking of midsize sedans, the Mazda6 comes close. With a striking exterior complete with hypnotizing metallic paint, the Mazda6 looks sleek, fast, and even exciting.
Of course, looking great can only take you so far, so the Mazda6 has the brains to match its beauty. All three trim levels (Sport, Touring, Grand Touring) use a 2.5-liter four-cylinder that delivers 184 horsepower. Mazda's six-speed automatic transmission is also used in all models, and the Sport and Touring get can a six-speed manual, a rarity in this class. The Mazda6 is rated at 26 mpg in the city and 38 mpg in highway driving.
What We Love About the Fusion
The Fusion enjoys bold exterior styling that only a class leader can get away with in this conservative segment. The unique look seems appropriate for a car that is indeed a standout by virtue of its advanced technology and spirited performance.
On the road, the Ford always manages to be quiet and composed, imparting the feel of an entry-level luxury car. Wind and engine noise have been all but engineered out at highway speeds. The available 2-liter turbo provides the performance of a V6 while using less fuel. Fusions equipped with the 2-liter can get all-wheel drive, which isn't available at all on the Mazda6.
Is the Mazda6 Worth a Look?
Absolutely, especially if you're interested in a sportier sedan experience. It offers athletic handling, a swoopy body, and even a manual transmission for the fun of it.
Our Verdict: Mazda Mazda6
The Fusion is an excellent family sedan, but the Mazda6 is something truly special in this class.
Take a closer look at the Ford Fusion >>