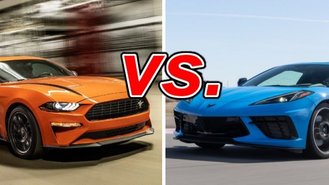 The Ford Mustang, one of America's quintessential muscle cars, covers a broad swath of the performance market while providing a measure of everyday practicality. The redesigned Chevrolet Corvette is altogether more exclusive, appealing to buyers who insist on nothing less than a dedicated supercar.
Both the Mustang and the Corvette have their fans, but which approach works better in our view?
See a side-by-side comparison of the Mustang & Corvette »
What the Mustang Gets Right
You don't have to splurge when buying a Mustang to get genuine performance. The standard engine is 2.3-liter turbocharged four-cylinder EcoBoost that makes 310 horsepower and 350 pound-feet of torque.
Granted, the base Corvette gets 490 horsepower, but it also costs over $32,000 more than the base Mustang. You can buy two EcoBoost Mustangs for the price of one Corvette.
The Mustang GT and Bullitt versions get a 5.0-liter V8 with 460 hp and 480 hp, respectively, and 420 lb-ft of torque.
The Mustang's backseat offers adequate room for two, and the trunk holds a reasonable 13.5 cubic feet. Per tradition, there's no backseat in the Corvette, and storage space is split between front and rear compartments totaling 12.6 cubic feet.
What the Corvette Gets Right
The Chevy Corvette C8's new mid-engine design results in superior stability and handling at high speeds, not to mention a more comfortable ride. The 6.2-liter V8 pumps out 490 hp and 465 lb-ft of torque, enough to take the Corvette from 0-60 mph in 2.9 seconds and on to a top speed of 194 mph. The Mustang GT needs 4.5 seconds to hit 60 mph and tops out at 155 mph.
Convertible Corvette versions feature a power-retractable hard top that deploys in 16 seconds. The Mustang convertible still uses a power-folding fabric top.
The latest Corvette represents a new era in interior design and refinement. The driver is surrounded by fine finishes and high-resolution displays. Buttons are lined up single file down the sweeping center console. The Mustang takes a functional-retro approach inside. Everything works as expected, but there's no attempt break new ground.
What's Your Pleasure?
The Ford Mustang serves up as much style and performance as you can reasonably expect for the price. That kind of value doesn't come along often. In addition to its brute power, the Chevy Corvette displays a level of engineering sophistication that places it among the world's best sports cars. Bragging rights matter in this case, and the Corvette owns them.
Our Verdict: Chevrolet Corvette
The latest Chevy Corvette is a true exotic car that you can buy right off the showroom floor, for a far cheaper price than its luxury competitors. The mid-engine Corvette C8 offers incredible performance, and it's no exaggeration to call it one of the best Corvettes ever.
Take a closer look at the Ford Mustang »