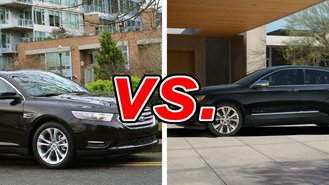 The Ford Taurus and Chevrolet Impala are reliable mainstays in the full-size sedan market. They're ideal for American families, but they're also used by corporations, government agencies and everyone in between.
Both nameplates have been around forever, but both are very different cars than they used to be. So how do they compare today?
See a side-by-side comparison of the Taurus & Impala >>
What the Ford Taurus Gets Right
The Taurus offers four trim levels -- the high-performance SHO grabs the most attention. Most models feature a 3.5-liter V6 engine that offers a good balance of 290 horsepower and up to 29 mph on the highway.
Standard equipment on the base model is a bit sparse, but higher trim levels add lots of features. The trunk is huge, as is an interior that moved the Taurus into the full-size segment. Despite this, the cabin can feel rather cloistered at times. We like the Ford MyTouch system, but three display areas might be a bit much.
What the Chevrolet Impala Gets Right
As it did with the smaller Malibu, Chevrolet redesigned the Impala with styling cues that reference the Camaro. It's a handsome car, and this intriguing design continues inside, where thoughtful touches include a secret compartment for valuables.
With a 3.6-liter V6, the Impala can sprint to 60 mph in 6.8 seconds. And you don't surrender fuel economy for that performance -- an Impala matches the Taurus' highway rating of 29 mpg.
How Do They Compare?
The Taurus and the Impala approach the full-size sedan from different vantage points. They deliver similar performance, similar space and similar economy. A buyer's choice might come down to looks: The Ford's aggressive squared-off styling or the taut elegance of the Impala's lines.
Our Verdict: Chevrolet Impala
The new Impala drips with sophisticated style -- and has the performance to back it up.
Take a closer look at the Ford Taurus >>